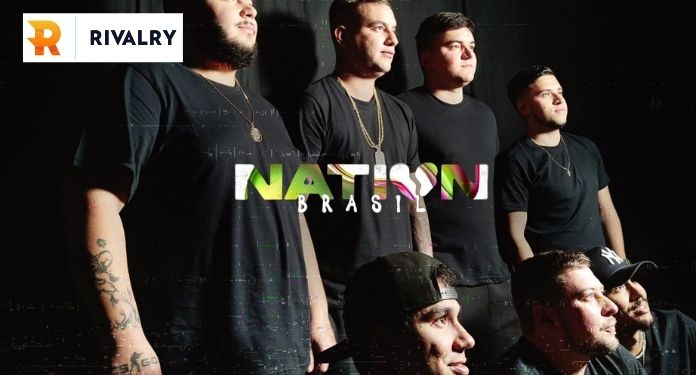 This Thursday (16), 00 Nation announced its new sponsorship partnership with Rivalry, a sports betting company. With this, the team formed by the names 'vsm', 'leo_drk', 'LUCAS1', 'HEN1', 'kNg', 'trk' and the coach 'cogu' will stamp the company's brand on the shirt.
In addition, the organization promised to announce many other news soon, such as the recruitment of new talent and investment bases.
Rivalry's Brazil regional leader Luis Guilherme said: "We are excited to be partnering with 00 Nation, a team made up of local legends from the Brazilian CS:GO scene. Many of these players have been following Rivalry for years, and it is an honor and privilege to be part of their history now and support them in building something special for their fans."
According to the Global Head of Esports of 00 Nation, Bruno Santos, this is the best time to bring Brazilian fans closer to the team. "As we are an organization from another country, we need to give a special focus to the Brazilian fans and show them that, even though we are far away, we are close".
"Our idea in launching the version of our networks is to bring the public closer and present to them the work being carried out, not only with the CS:GO team, but in all areas where 00 is included", he concluded Bruno.
Even with little time to live, the organization announced its social networks aimed at the Brazilian public and its new Rocket League line-up, composed of FlamE, Breezi, Hibbs and Ethzn (coach).
About Rivalry
Today, Rivalry has more than 20 eSports available for players to bet on, such as League of Legends (LoL), Counter-Strike: Global Offensive (CS:GO), Dota 2, Free Fire and VALORANT. In addition, the company offers bets in nine sports, such as football, basketball and others.
Rivalry is licensed by the Isle of Man Gaming Oversight Commission to promote online betting and gaming, expressly prohibiting the activity for persons under 18 years of age.
According to the platform, the player only placed a real bet if he is the account holder in question. And, a bet is only completed when it is accepted by the platform according to its rules.