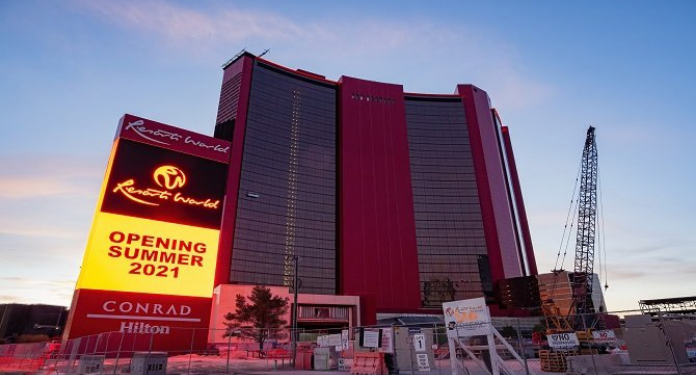 Resorts World Las Vegas announced that, in partnership with Sightline Payments, the new Las Vegas casino resort will be able to accept cashless payments on all services when it opens its doors on June 24th.
The casino will include mobile technology, where customers will be able to pay for any gaming, entertainment and hotel offerings through the Resorts World mobile app.
Developed by the Joingo mobile platform, the app will also allow users to check their Genting Rewards account balance, to receive rewards and stay up to date on the resort.
In addition, the site is also accepting cashless bets as well as the use of a mobile app. Players will also be able to use a digital login to wager without money on both slots and table games.
This will be managed by Konami Gaming's Synkros, which is the resorts' casino management system.
A Major Breakthrough for Resorts World Las Vegas
Tom Jingoli, Executive Vice President and COO of Konami Gaming, said: "The opening of Resorts World Las Vegas marks a significant historic moment for our city and the global gaming industry, and Konami is incredibly excited to be a part of the entertainment offering unforgettable and uninterrupted guest experiences in entirely new ways."
Customers can use the resort's GamingPlay digital gaming wallet to gamble, while Genting Rewards loyalty members can log in with ease.
Through the digital wallet, participants can deposit money at a NEO kiosk or by signing up for Slightline's Play +, which will allow guests to link their bank accounts.
Joe Pappano, CEO of Sightline Payments, said: "The launch of cashless gaming solutions at the first major casino opening in Las Vegas in a decade presents a tremendous opportunity for Sightline to drive the digital transformation of the gaming consumer experience."
As well as the 'no cash' offering, Resorts World promised seamless integrations as it partnered with Genesis Gaming to provide digital table games with RFID bet tracking.
The casino will be the first to introduce a "smart table" that will use embedded RFID chips for every dollar denomination, which will provide 100% accuracy in customers' gaming activity.