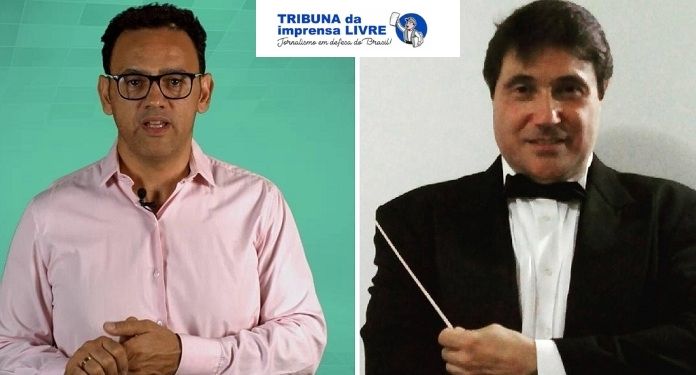 Journalist Luiz Carlos Prestes Filho continues to present his reports related to the legalization of the gambling, betting and casinos market in Brazil.
This time, Prestes Filho held an interview with the professor at the School of Arts, Sciences and Humanities at the University of São Paulo (EACH-USP), Ricardo Ricci Uvinha and the professor at the Faculty of Philosophy, Sciences and Letters of Ribeirão Preto at the University of São Paulo (FFCLRP-USP), Rubens Russomanno Ricciardi.
Both argued that the approval of betting practices, in addition to stimulating the national economy, would also significantly help regional artistic segments. "Among these, our Carnival and the Festa Junina", stressed in the interview published on the website Tribuna da Imprensa Livre.
As the teachers believe, there is a lot of potential for artistic partnerships and the promotion of young talents at events in an eventual resumption of casinos. When leaving the current condition of illegality, "casinos could symbolize an important approximation with the university context due to the Leisure and Tourism, Music and Information Systems courses, among others".
Interview with Professors Ricardo Ricci Uvinha and Rubens Russomanno Ricciardi
Luiz Carlos Prestes Filho: Casinos, entertainment, leisure and music is the relationship historical in Brazil?
Uvinha and Ricciardi: Music should always be performed with musicians on stage and listeners in the audience, because no form of mechanical reproduction will replace the live musical performance. Before its ban in 1946, casinos in Brazil contemplated an important alternative for musical activity. As Aristotle said, "music gives us pleasure and makes us think". The condition of entertainment in art cannot be ignored, especially when it enables permanent spaces for the world of work in music.
The tradition of casinos usually includes spaces (rooms or theaters) with a wide stage for musical performances, which makes instrumental and vocal formations, often symphonic, possible with more than 11 musicians, thus allowing the collective and joint performance of dozens of musicians at the same time. There are reports that the old orchestras, operating in casinos in Brazil, had up to 60 musicians. Therefore, it is a fruitful alternative not only for composers, arrangers and conductors, but for instrumentalists and singers, who are always in greater numbers, so that they have new possibilities in their world of work. The relationship between leisure and casinos is indeed historic in Brazil.
The activity, now classified as "games of chance", was an important element of entertainment in Brasil Império, being formally interrupted during the government of President Eurico Gaspar Dutra. Until then, famous developments were created to serve as a foundation for the development of entertainment through this type of games, an emblematic example being the Quitandinha Palace, built in 1944, in Petrópolis, which even today symbolizes an important tourist attraction in the mountainous region of Rio de Janeiro.
Luiz Carlos Prestes Filho: Would it be important, with the regulation of casinos and bingo in Brazil, to value artistic activities and inside establishments?
Uvinha and Ricciardi: Like what already occurs in casinos located on ships sailing in Brazilian waters (and which are formally authorized to operate, attracting great interest from Brazilian tourists), artistic activities can be substantiated as an important pegged element gambling, enhancing the long-awaited leisure and entertainment experience. Large Brazilian hotels, such as the Copacabana Palace, encouraged the activity and constantly received distinguished guests, such as Frank Sinatra.
There are historical reports of great performances by Carmem Miranda and Ary Barroso, among others, on the Casino da Urca stages, before the activity ban in the country, in the mid-1940s. The regulation of casinos in Brazil, in addition to attracting significant budgets for host cities for these developments, could become a relevant leisure entertainment option for our population.
Luiz Carlos Prestes Filho: Should Brazilian music content take priority in casinos and bingos?
Uvinha and Ricciardi: Certainly, there could be a law that contemplates Brazilian musical repertoires as priority, with live music. It is important to value Brazilian repertoires not only today, but from all periods. Brazil has had a rich musical production (of Brazilian composers) since the colonial period, in the most diverse genres: sacred music, military music, opera, symphonic and chamber music, both instrumental and vocal (with chamber ensembles and orchestral-symphonic formation, involving solo singers and choirs).
Brazil also has popular musical repertoires, such as batuque, modinha and lundum, since the 18th century. Later, since the end of the 19th century, new musical genres emerged, such as samba (initially only instrumental, then vocal), dobrados de banda, chorinho, Brazilian tango, maxixe, frevo, viola caipira fashion, repentistas, bands of fife, the Brazilian waltz and bossa nova etc.
All of this rich historical production can be reinvigorated with special laws for musical activity in casinos. It is important, therefore, that this professional alternative is not restricted to DJs, but that it can make feasible and even encourage the work of real musicians, performing live on the stage of the casinos.
Luiz Carlos Prestes Filho: Would it be important to have a market reserve for Brazilian artists in these establishments?
Uvinha and Ricciardi: First of all, the most important thing would be to ensure a preliminary definition of the culture industry. As examples of the culture industry, we have today the following genres: presenters-singers of children's television programs, axé, gospel, disco, funk, hip-hop, singing priests or pastors, pop, rap, rave, rock, backcountry university, techno and world music etc. Thus, we have to separate, on the one hand, the industry from culture and, on the other hand, art and popular art. A law aimed at musical activity in casinos should encourage Brazilian art and popular art, but not the culture industry.
The process will be unsuccessful if there is a hegemony of the culture industry (with DJs and kitsch pyrotechnic shows, without artistic elements), in the event that casinos return. By kitsch, we mean the average taste (bad taste) in style or product with artistic intent, which seeks to embody a supposed value of cultural tradition that does not exist and, therefore, is nothing more than a simulacrum, that is, a sterile imitation, of work by art.
In general, it is paired with a pyrotechnic or technological effect (and kitsch increasingly acquires a technological configuration), and always reiterated with cliché, commonplace, banality, stereotype or buzzword, that is, standardized repetition without a revealing or innovative proposal in language, invariably sentimental, sensational, immediate or opportunistic. With the end of folklore and popular cultures, culture and kitsch became one. It is necessary to think about mechanisms so that art and popular art are promoted.
Our conceptual proposal for the definition of the popular, therefore, differs greatly from the standards of the cultural industry. We understand by art both the broad repertoire of concerts (operatic, chamber music, etc.) as well as popular or folk arts, that is, popular manifestations independent of industrial production systems – we are not referring here to the manufacture and sale of phonograms, but rather , to the process of poetic elaboration (which comes from poíesis, the process of inventive elaboration of a work of art, with its language proposals), with criteria focused on the parameters and the treatment of musical materials.
Musical materials are the components of poiesis: parameters (pitch, melodic contours, phrasing, articulation, duration, metric and rhythm, agog, intensity, timbre and other expressive elements) and treatment (harmonic, contrapuntal, textural, structural, orchestral, elements repetition, contrast or variation, etc.), all in the midst of the inseparable relationships between form and content, because what matters is the language as a whole, its craftsmanship, its inventive and revealing uniqueness, its world exposure.
In turn, as an ideological system, the culture industry emerged in the 20th century with new mass communication technologies, imposing audiovisual products and bestsellers manufactured in series and standardized according to the profile and classes of passive and devoid consumers. critical spirit, guaranteeing the hegemonic cultural survival of capitalism. Like a church that differentiates believers from heretics, the culture industry imposes brutal mechanisms of adequacy and standardization.
Excluded heretics barely survive in their social contexts. Let us be careful, however, not to generalize, a priori, cinema, radio, television, the internet and not even the music industry (or any other market possibility) as demonized vehicles. The vehicles themselves can be used in many different ways. Our study of the cultural industry focuses on the hegemonic way in which this ideological system operates these vehicles, through a reductive poíesis (composition, invention of the work), submitted a priori to marketing, which corrupts its freedom.
In this sense, we propose a theoretical perspective that does not appear in the Frankfurt School, because we analyze the culture industry with a focus precisely on poíesis (and not for the sociological question of consumption or for its commercial character). It is poíesis (the elaboration and treatment of musical parameters and materials, as described above), entering into technical-artistic problems of music, that is, the question of musical language, which decides on the definition of the musical universe, restricted to the industrial production, or if there are actually inventive elements.
Poiesis (producing, inventing, composing works of art) or poetic (or even poetic, a better adaptation of poiesis) is the conception (project, program, normative manifest) and production (composition, writing or Gestaltung) of the work of art. Poetics concerns the style of a poet, a theatrical, literary or librettist author, a composer, a visual artist, or a choreographer in dance, an architect etc. As we have seen, the concept is valid not only for poetry, but also for all the arts.
Thus, we intend to shift the focus of the analysis, not only recognizing the ideological issue, but also punctuating the artistic language through musical parameters. The Frankfurt School does not include the question of forgetting poetry, as we propose here. It is not our intention to discuss what is beautiful or ugly. According to Theodor W. Adorno and Max Horkheimer, if "beautiful is what the camera always reproduces", then "the dominant taste relates its ideal from advertising, from utilitarian beauty.
So, in the end, the Socratic conception was ironically realized: the beautiful is the useful ". Like the authors of the Frankfurt School, we do not claim that the culture industry, which can be both beautiful and useful to so many, is bad, and that art is good. We only affirm that in the culture industry there is a "freedom for ever equal", and in art, as well as in popular art, the possibility of essays for difference and singularities. We shouldn't demonize fun, either. After all, fun can be pleasurable, as art has always included the condition of entertainment and pleasure.
In fact, if it is not entertainment or pleasure, it cannot be art. Hence the misunderstanding of the Germans when they say U-Musik (entertainment music) for the music of the culture industry, as if music as an art could not also be entertainment, as if concert music and popular music outside the music industry. culture could not be fun, and should always be just E-Musik (serious music) – something that much of the poetry of great composers and even popular traditions of all countries have been denying for centuries. The difference is that great art, in addition to entertainment, fun and pleasure, also makes us think, revealing singularities that transcend all dating. On the other hand, art and popular art always influence each other.
As Bertolt Brecht said, "international works are national works, and national works assimilate international innovations". We also propose the theory of the gradual departure of the culture industry from art. If, at the time of its emergence, at the beginning of the 20th century, the culture industry was still linked to art and popular manifestations, there has since been a gradual and constant process of removal, so much so that after almost a century, the culture industry it imposes its own systems in a sovereign way and already almost completely dispenses with art or any other cultural element typical of a people or a community.
The genres of the culture industry no longer appear through the inventiveness of this or that artist, or this or that community in their unique cultural relationships, but are the result of the arbitrariness of marketing that a target audience of passive consumers, determined at the moment ( hence also its ephemeral character), always a "tribe" properly uniformed and domesticated. Therefore, it is necessary to verify, as a criterion, whether or not there are less and less artistic and truly popular elements in the culture industry. In this sense, it is possible that Adorno's criticism is confirmed not only valid and valid, but its relevance can be seen even more drastically.
As we said, what defines musical language is its poetry, inventive freedom, different treatment in musical parameters and materials. Perhaps the distinction between the culture industry and art is easier to achieve. However, the difficulty becomes greater when we try to differentiate industry from culture (mass production and standardized through marketing that excludes regional singularities) from popular and folk music (manifestations of a specific people or community, usually with regional characteristics) ).
We thus approach Fredric Jameson's analysis of contemporary times, characterized by "industrialization of agriculture, that is, the destruction of all traditional peasantry; and the colonization and commercialization of the unconscious or, in other words, mass culture and the culture industry ", annihilating an important part of popular and folk music worldwide. Much more than in the case of music as an art, whose historical developments remain largely independent (today due to the large universities around the world, which guarantee freedom for their artist artists), the cultural industry's endeavors end up harming mainly the manifestations truly popular.
Not least, the culture industry makes people from all continents not only illiterate in art, but also prevents critical thinking.
Luiz Carlos Prestes Filho: In Las Vegas, Macau, Monte Carlo, Punta do Leste and in Estorial, artistic activities play an important role. As it would be in Brazil. Could parties like carnival and June parties be part of the calendar / imagery of each establishment?
Uvinha and Ricciardi: The mentioned cities are known worldwide for the quality of their casinos and for attracting a large number of tourists who visit them annually, generating foreign exchange and job opportunities in a notable production chain associated with tourism, leisure and entertainment.
If the activity in Brazil was approved, in addition to boosting the economy as mentioned, it could substantially assist in the promotion of local and regional artistic activities, including our Carnival and the Festa Junina. Other leisure activities associated with dance, theater, martial arts, fashion shows and circus could complement this rich entertainment menu for the casino goer in locations throughout Brazil.
Luiz Carlos Prestes Filho: Could the national platforms for electronic casino and bingo games give power to promote Brazilian music?
Uvinha and Ricciardi: Yes, if there is a precise definition of the culture industry and, in addition, an even clearer differentiation between the culture industry and popular art.
Luiz Carlos Prestes Filho: Could Brazilian universities take advantage of courses in mathematics and computing, design and music to conduct research on software for the games industry?
Uvinha and Ricciardi: The music departments at Brazilian universities train hundreds of young musicians, even more so today with the proliferation of choirs and young academic orchestras throughout Brazil. Certainly, there is potential for an agreement and also for the participation of these young talents in the musical events of the casinos. Once the activity in Brazil was approved, leaving the current context of clandestinity, casinos could also symbolize an important approximation with the university context due to the Leisure and Tourism, Music and Information Systems courses, among others.
Among the student students of these courses, a good part would be directly benefited, with the possibility not only of internships (and a future professional placement), but it also becomes an interesting locus for the development of research with the central theme of entertainment and its artistic implications .