On Tuesday, 27th, Ricardo Nunes (Mayor of São Paulo) attended a meeting with representatives of the Entain group, one of the main references in the global gambling industry. The meeting took place in the mayor's official office and was attended by the director of the Entain group, Marcus Silva and members of the company's legal staff, Fernanda Batistella and Luiz Felipe Maia.
Councilor Fabio Riva, Finance Secretary Guilherme Bueno de Camargo; the Secretary of the Civil House, Fabricio Cobra; the Executive Secretary of the Mayor's Office, Diogo Soares and the Director of Investments and New Business at São Paulo Negócios, Michael Sotelo, also participated in the conference. The meeting with the Entain group not only took place at the city hall, but was also listed on Ricardo Nunes' official agenda.
The meeting served for the group to present its way of working to the mayor of São Paulo, in addition to the mayor formally supporting the installation of a company office in the largest city in Brazil. On social networks, Ricardo Nunes made a point of sharing the relevance of the conversation with the population of the capital of São Paulo.
"I am welcoming Marcus, who is a representative of one of the largest companies in the world, which is Entain. And this great company is going to install itself here in Brazil and we are here talking to have it here in São Paulo. So it's come a long way and I'm pretty sure it's going to work. Tell us Marcus what the company is?", commented the mayor.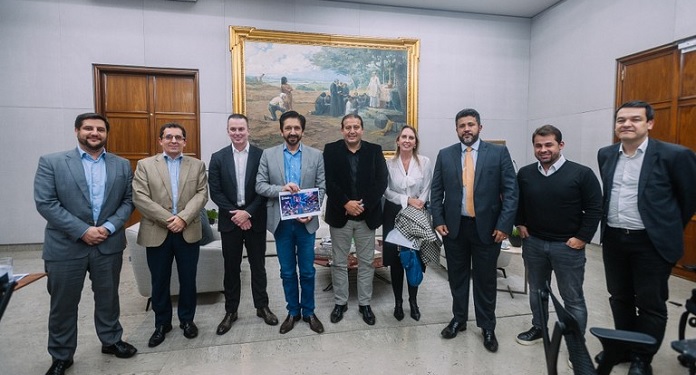 Marcus Silva detailed the performance of Entain: "It is one of the world leaders and is listed on the stock exchange and is part of the "FTSE 100" group. Which means they are the 100 largest companies in the state in the London market. So what does this mean? A highly audited company with very high internal governance and obviously with very high social responsibility".
Lawyer Luiz Felipe Maia could not provide further details regarding the meeting, but replied to iGaming Brazil: "We cannot provide further details about the meeting, even for reasons of professional secrecy, but we are very optimistic about the way in which the municipality of São Paulo is analyzing the opportunity to attract companies in the sector".