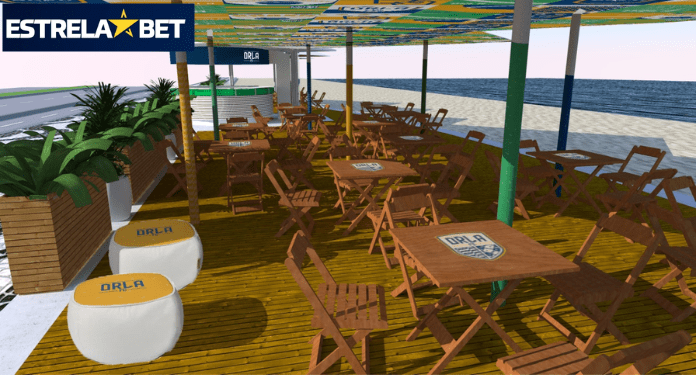 Orla F.C., a project created by Orla Rio, the company responsible for managing 309 kiosks on the beaches of Rio de Janeiro, announced that the betting site, EstrelaBet, is its newest sponsor.
Furthermore, the project – in partnership with Klefer, an agency specialized in sports and entertainment – announced that the official launch is scheduled for this Tuesday, 27th, in Barra da Tijuca (west zone of Rio), and will be attended by the participating kiosk operators.
The sports betting platform is already a sponsor of Internacional in both the men's and women's teams, Brazilian runner-up last weekend.
Sérgio Campos, a partner at Grupo Klefer, commented on the partnership: "It is with great joy that we announce Estrelabet as another sponsor of the project. It's another great brand with us, added to Ambev, which, in addition to having a great national reach, has a total connection and fit with the sports universe".
EstrelaBet, which will own the naming rights of Orla F.C., will carry out relationship, activation and visibility actions at the kiosks alongside Budweiser, another sponsor of the project.
"The idea is to bring innovative and personalized actions, both offline and digitally, to the football-loving audience and make Orla F.C. the great point for cariocas and tourists to consume Brazil in its essence", adds Campos.
A period full of events and opportunities for football fans
The Orla F.C. will offer a period full of events and actions throughout the final stretch of the football season, which will encompass the period of the finals of the Copa do Brasil, Libertadores, final rounds of the Brasileirão and the World Cup.
Guilherme Borges, vice president of Orla Rio, said: "The waterfront is one of the biggest open-air cultural stages. It is where cariocas and tourists have fun, including watching and playing sports. Therefore, nothing more propitious than bringing entertainment linked to the most loved sport in the world to this audience"
"Through Orla F.C., we will provide unique experiences in partnership with major brands that are all about leisure and relaxation that only sport can promote," added Borges.
About EstrelaBet
EstrelaBet has a great presence in the Brazilian sports scene, having sponsorship agreements with several sports entities and projects, such as: Internacional, CRB, Resende, Remo, Coimbra Sports (MG), América (RJ), Villa Nova (MG), Magnus Futsal and now Orla F.C.
The brand that operates in the online entertainment sector provides traditional betting, with fixed odds and numerous possibilities for guessing for its users, providing, through betting on the platform, the entire customer experience during a football match.