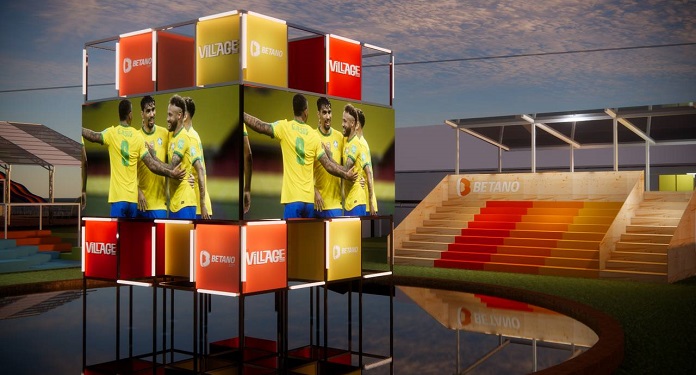 Bookmaker Betano has acquired the naming rights for Festival Village, an event that will take place between November 17 and December 18, at the Jockey Club Brasileiro, in Rio de Janeiro. With the sponsorship, the festival will be called Village Betano.
The event will have an area of ​​30 thousand m², two stages, four screens of 24m² and even more 72m² of LED panels and various environments. The expectation is to receive about 150 thousand people over 23 days.
The intention is to offer fans an opportunity to follow the World Cup and, at the same time, have fun with countless musical attractions. Performances by Anitta, Ludmilla, Luísa Sonza, Wesley Safadão, Jorge Ben Jor, Natiruts, Duda Beat, Gloria Groove, Criolo, BaianaSystem, Marina Sena, Silva, Filipe Ret and L7nnon are already confirmed.
"We want Village Betano to be the main meeting and celebration point for Brazil at the 2022 World Cup. For that, in addition to Vibra, we also invited some of the largest agencies in Rio to produce this mega event", said Fabrício Bahruth, partner at Vibra Marketing and Entertainment and general director of the festival.
"Our goal is to explore the feelings of union and pride present in the period to also talk about music, Rio de Janeiro, culture, sustainability and diversity, topics that will also be present at the festival", explained Juliana Schultz, partner at Vibra.
Betano wants to go beyond investments in the sports scenario
With Village Betano, the brand advances in its strategy of going beyond investments in sports, promoting culture, entertainment, diversity and the economy in which it is operating.
"Betano is proud to be part of one of the biggest entertainment and culture events in Rio de Janeiro. We have been in Brazil for almost two years and we want to build a legacy that goes beyond promoting the sports market", said Arthur Niggemann, marketing manager for Betano in Brazil.
Niggemann added: "The Village is an event that values ​​pillars such as sustainability, diversity and economic and social development, which are also aligned with our purpose as a brand in the country".
Betano will also feature the insertion of its brand on the main screen and on TVs in the food courts, content before and after the games, grandstand with lounge for guests with open bar, logo on all official cups and meet and greet in the artists area. .
In addition, the event will have the 'Betano Lounge', which will offer activations with a giant geek, two futmesas, a goal show with brand prizes and roulette with distribution of gifts. The last two attractions, however, will be exclusive to the bookmaker's customers.