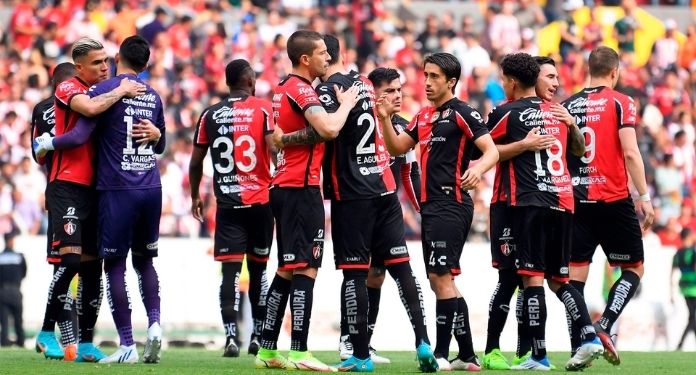 Mexican sports betting, casino and online gambling operator Caliente will continue to sponsor Mexico's Atlas Fútbol Club team for the 2022-2023 season. But, the company branding will appear on the front of the football team jersey from now on.
Currently, the group already appears on the Atlas shirt with its caliente.mx online sports betting brand positioned on the back of the kit. Now, as reported by the Mexican media El Futbolero, bookmakers will occupy the most valued space on the shirt.
The amount that Caliente will pay the team for the sponsorship is around 70 million Mexican pesos (just over US$ 3.5 million), according to El Futbolero and information from another local media outlet, Récord.
It should be noted that during the current season, Atlas used the word "transformation" on the front of his shirt. This occurred after the contract it had with Banco Azteca came to an end and, after evaluating different options, the team could not find a new partner.
According to local media, the amount that Atlas would receive from this new sponsorship would be used to keep their current Argentine coach, Diego Cocca, who would have asked for a significant salary increase.
Caliente directly sponsors 12 of Mexico's 18 First Division clubs: Atlas, América, Chivas, Cruz Azul, Pumas, León, Santos, San Luis, Querétaro, Puebla, Xolos and Mazatlán.
About Caliente
Since 2014, Caliente has been offering sports betting, live betting, online casino games and poker. Therefore, the bettor has a wide variety of markets with an extensive selection of sports at his disposal.
Football fans can enjoy odds on games ranging from Liga de México to other major leagues around the world such as La Liga, Premier League and more. Players can also test their luck in sports as varied as basketball, tennis, hockey, horse racing, boxing, rugby, golf and more.
Furthermore, the live betting service ensures that users feel the excitement of their favorite games and place bets as the action progresses. For all these reasons, Caliente is seen as the leading provider of online gambling services in Mexico.