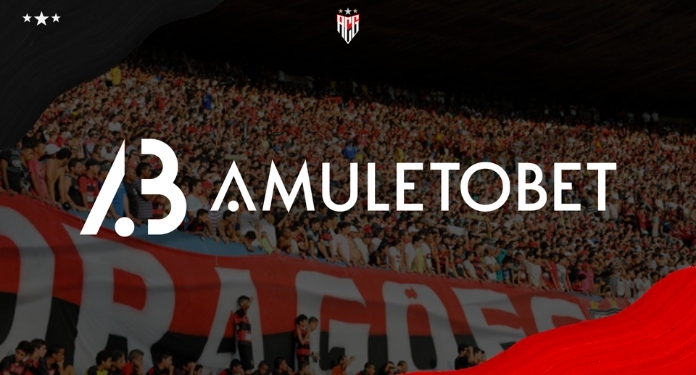 Newly arrived in Brazil, the sports betting bookmaker AmuletoBet announces a master sponsorship agreement with Atlético Clube Goianiense, a club recognized for its professional management model and the efficiency in the use of its financial resources, factors that have kept it in the elite of Brazilian football since 2020.
In addition to exposing the brand in the main space of the game and training jerseys of Rubro-Negro in Goiás, the agreement between AmuletoBet and the main club in Goiás also includes physical and digital deliveries as an advertising board in games with field command of the Atlético-GO at the 2021 Brazilian Championship, three signs at the Dragão Training Center, weekly publications on the club's official social networks, banner on the official website, insertions on the Antônio Accioly Stadium screen, brand exposure on the backdrop in the press room and others .
Thomas Carvalhaes, Brazil & LATAM Regional Director at AmuletoBet, celebrates the agreement with one of the clubs that have stood out in the football scene and emphasizes that the club's good performance, unlike sports betting, is not luck.
"We are very happy to announce the partnership with Atlético Goianiense. It is a club that has been highlighted in competitions and will help us in our mission to be recognized as the main sports betting house operating in Brazil. We hope to bring luck to the club. following the competitions, since our name is Amuleto", mentioned Thomas, recalling that the club from Goiás is playing a good campaign in the Brazilian Championship and that it continues to compete in the Copa do Brasil 2021 after eliminating Corinthians, Joinville and Galvez in their head-to-head confrontations.
Adson Batista, president of Atlético-GO, celebrates the arrival of the new sponsor to the club. In addition to increasing the collection, the interest of a brand in Atlético-GO, he says it is evidence that the club from Goiás adds direct value to new partners.
"The arrival of a new master sponsor is very important for Atlético Goianiense. We were very judicious in our choice and we chose AmuletoBet because it is a serious, responsible company with great growth potential in the Brazilian market," stated the president.
The union between the brands of AmuletoBet and Atlético-GO will take place this Sunday, at 4 pm, in the match against Palmeiras, which will feature the transmission of Rede Globo to the state of São Paulo and some other states to be defined by broadcaster. The match will also be broadcast on Premiere, pay-per-view channel, nationwide.