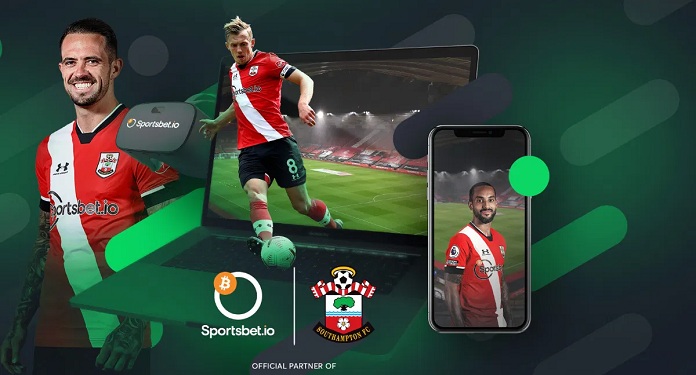 England's Southampton Football Club has renewed its partnership with the Coingaming Group for another three years in an agreement that will make its brand, Sportsbet.io, continue to appear on the most prestigious part of the club's shirt.
The deal is the biggest sponsorship in the team's history and includes the option for Southampton to receive certain Bitcoin performance-based bonuses at the end of each season. This association will allow Sportsbet.io to continue to develop the strong relationship it has been building with the team and its fans since last year.
From the main sponsorship announcement in August 2020, the group works tirelessly with the English club to create a positive impact on the local community and to highlight the importance of safe betting. This initiative covers the 'Listen To The Saint In You' campaign, launched during Safe Play Week, with the intention of encouraging fans to assess their risks before betting.
The sponsor also played an essential role in the club's launch of the Positive Impact Pledge, which helped small businesses and local entrepreneurs apply for grants and maintain their businesses during the restricted period.
Sportsbet.io cedes brand space on the shirt for charity
Recently, Sportsbet.io donated the brand space on the shirt to the Saints Foundation in the Premier League match against Burnley to increase fundraising in order to help recover the resources lost due to the pandemic. Visibility helped the organization raise thousands of pounds on the day, a figure that was supplemented by Sportsbet.io, which donated another £ 10,000.
Southampton's commercial director, David Thomas, commented: "The Sportsbet.io team has built a successful business. In a short space of time, they have proven to be innovative, forward thinking and extremely supportive of the club, our fans and the community in general, and we welcome the opportunity to develop and promote safe gaming messages together. They have become valuable partners and we look forward to the next chapter. "
Coingaming Group CEO Maarja Pärt said: "Our first season as a Southampton Primary Partner has already exceeded all expectations. We were inspired by the passion of the club and its fans, and it was an easy decision to extend our partnership for another three years ".
She added: "From the start, Southampton has been a perfect match for the fun, fast and fair way we do things at Sportsbet.io. We can't wait to continue this journey, and we will do everything we can to support the team and its community in the future ".