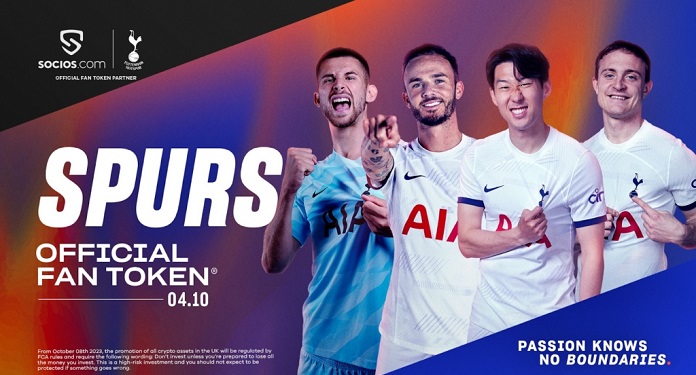 Tottenham Hotspur have confirmed the launch of their official Fan Token ($SPURS) in partnership with Socios.com. The aim is to provide fans around the world with access to a unique and exclusive layer of club-related activities, rewards and experiences.
The Spurs Fan Token becomes an additional benefit within the club's membership program.
All One Hotspur (Spurs supporter membership program) members who are season ticket holders aged 18 or over will receive five free non-negotiable Fan Tokens.
One Hotspur / One Hotspur Connect members will receive a Fan Token as soon as the launch takes place this Wednesday, 4th.
Fans will receive a voucher code via email, which can be redeemed on the Socios.com app.
Tottenham Fan Token
The free, non-tradable and non-transferable Fan Token will provide instant access to club-related polls, predictions, quizzes and competitions, through which fans can earn points to unlock exclusive rewards and experiences.
The club will work in collaboration with Socios.com to provide personalized and exclusive rewards to Spurs fans, such as creating and choosing messages that will be displayed on the screen, VIP tickets, vouchers for the official store and virtual meetings with their idols.
After the initial launch, Fan Tokens will be available to non-members for an initial price of US$2.00 each (approximately R$10.10) – also available from Wednesday the 4th.
Through the partnership, Socios.com will also fund the Tottenham Hotspur Foundation's Reignite programme, providing adult employment opportunities and healthy lifestyle support in the club's local community.
"We are pleased to be able to offer fans around the world a new range of club-related rewards and experiences. Our Fan Token will leverage the many benefits of our existing membership program," said Ryan Norys, Commercial Director of Sales at Tottenham Hotspur.
"We will be offering free Fan Tokens to all our members and season ticket holders at launch and are working with Socios.com to offer a range of rewards that attract more national and international fans."
"The partnership is another example of how the club is working to create additional sources of revenue to reinvest in our football," concluded Norys.
Emma Diskin, COO of Socios.com, celebrated the expansion to another club competing in the Premier League. "Fans from all over the world are being rewarded on Socios.com with unique experiences, simply by showing support for their club through Fan Tokens."
"With this launch, Spurs fans will be able to participate in club-related polls, predictions and competitions, through which points can be earned to unlock new rewards and experiences."
"We welcome seven English teams to our group of over 100 major sports organizations and are determined to continue improving our app," he concluded.
About Socios.com
Socios.com is a blockchain and tokenized fan engagement and rewards platform that offers sports fans access to an intuitive app where they can join a highly engaged community and be recognized and rewarded for supporting their clubs and preferred league.
Through Socios.com, sports organizations can strengthen relationships with their fans through Fan Tokens, digital assets that unlock access to a gamified experience with exclusive rewards.
More than 150 sports organizations, including major Brazilian, European and Latin American football teams, premium Formula 1 teams, PFL, UFC and leading eSports teams have partnered with the company.