Socios.com, the world's leading platform for fan engagement and rewards through Fan Tokens, organized a penalty shootout workshop with eight Palmeiras fans at the Football Academy. The class was led by Raphael Veiga, midfielder of the team who was most recently called up to the Brazilian National Team.
Fan Tokens are digital assets that allow sports clubs and institutions to interact with and reward their global fan communities. In the action, the platform provided fans who have the $VERDÃO Fan Token with the opportunity to practice penalty kicks with the midfielder.
Veiga has already won nine titles with the Verdão shirt and is considered one of the greatest specialists in maximum penalties in Brazil, with an 85% success rate. This unique experience is part of Socios.com's commitment to providing football fans with memorable and exclusive experiences through the club's Fan Tokens.
The main requirement for the club's fans to participate in the workshop at the Football Academy was to have at least 100 Official Palmeiras Fan Tokens plus the loyalty score from the Socios.com app, or to have participated in some of the app's engagement dynamics.
"It was a fun action, I received a lot of affection and a lot of questions and I realized that they were very attentive to my explanations. I said that what makes a penalty well taken is how much the person can control their emotions in a moment of nervousness and difficulty", said the player.
"And passing these tips personally to the fans who won the action was super cool, as I was able to show what this moment between me, the ball and the goalkeeper is like and guide them while they practiced", he added.
Experience for Palmeiras residents
According to fan Nicole Bruno, holder of the VERDAO Fan Token since its launch in April this year, it was a different emotion to be with the player and receive tips from an expert on the subject.
"It was one of the greatest moments of my life. I've been from Palmeiras since I was a little kid, I always go to games and my house is decorated with Palmeiras stuff. I will cherish this moment for the rest of my life, it was an inexplicable feeling to meet Raphael Veiga up close and even more so to take a penalty under his guidance."
For influencer Gustavo Marsengo, ex-BBB and fanatical Palestra fan, receiving Veiga's teachings is the ultimate moment for a fan. "I am very happy and satisfied to have been chosen to participate in the Socios.com action. Veiga is a player who stands out wearing the Palmeiras shirt today."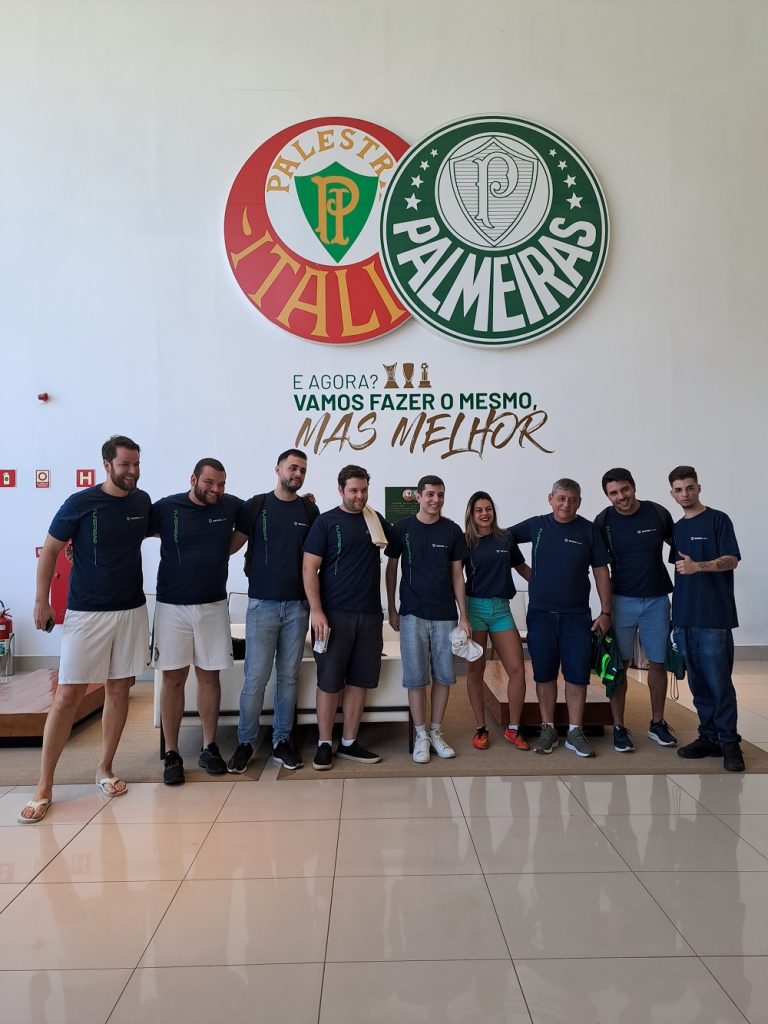 Fan Tokens provide exclusive experiences for fans
Socios.com is the creator of Fan Tokens and the world's largest fan engagement and rewards platform through Chiliz blockchain technology and an ecosystem of more than 150 sports institutions from around the world.
The main objective of the platform is to bring sports lovers closer to their favorite teams, bringing benefits, new experiences and exclusive products, exploring a lot of direct engagement tools in the fan-team relationship, such as gamification.
Fan Tokens are like digital keys that unlock access to certain products or activations through a gamified experience. Operated via blockchain, they can be purchased through the Socios.com app.
With more than 2 million users and more than 150 partner sports teams, Socios.com has already organized several experiences with the biggest clubs in Brazil. In addition to Palmeiras, the partner clubs in Brazil are Corinthians, São Paulo, Flamengo, Fluminense, Vasco, Bahia, Atlético Mineiro and Internacional.
About Socios.com
Socios.com is the world's largest blockchain and tokenized fan engagement and rewards platform, offering sports fans access to an intuitive app where they can join a highly engaged community and be recognized and rewarded for their support of your favorite clubs and leagues.