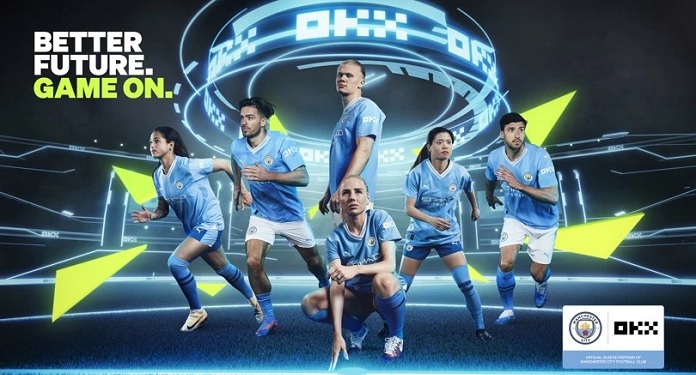 Manchester City and OKX, a leading cryptocurrency company by turnover and a leader in Web3 technology, have announced an extension of their partnership.
As part of the expanded agreement, the OKX brand will appear on the left sleeve of the men's and women's professional team kits and will retain its position on the left sleeve of the main team training kits, as well as appearing on other digital products and physical Club assets.
OKX's partnership with Manchester City began in March 2022, expanding for the first time in July 2022 to become the club's official training kit partner for the 2022/23 season.
To date, the partnership has helped introduce the brand to millions of football fans around the world through innovative Web3 experiences such as the OKX Collective, through which fans can get closer to Manchester City players and OKX ambassadors like Jack Grealish and Alex Greenwood.
The extended partnership was unveiled at an exclusive event at the Etihad Stadium with City Football Group CEO Ferran Soriano and OKX Global Marketing Director Haider Rafique. Manchester City legend Gaël Clichy was also on hand for a Q&A with the media.
In a feature moderated by Manchester City presenter Natalie Pike, Rafique and Soriano spoke about OKX's vision of reaching City fans around the world through the partnership.
They also discussed the role Web3 technology can play in fan engagement, especially when it comes to designing engaging and immersive experiences for fans.
Ferran Soriano, CEO of City Football Group, said: "We are very proud to have OKX represented on Manchester City's shirt sleeve. Both OKX and Manchester City are leading companies driven by a passion for innovation."
"We've already seen great Web3 experiences designed by OKX for Manchester City's global fan base and many more are to come. This is a very exciting partnership."
OKX representative details actions carried out in partnership with the English club
Haider Rafique, CMO of OKX, said: "The journey with the Man City team has been incredible. Manchester City was our first official partnership with a global brand and in just a year and a half we have come a long way."
"We always intend to integrate with the sport and help the club lean towards Web3. Fast forward 15 months and we now have a metaverse, an NFT initiative and a host of other new projects that we are excited about."
"The partnership on the sleeves brings us closer to City fans around the world, and we look forward to collaborating to create unique, exciting and innovative engagements through Web3 technology. As the Club's Official Cryptocurrency Exchange Partner, fans can expect things amazing every time they interact with OKX", he concluded.