Youtuber Felipe Neto generated controversy on social networks this Wednesday, January 25, due to an advertisement posted by him about "gambling" as "extra income". The publication generated a lot of criticism from the web.
Felipe emphasized in the advertising that the platform could generate "extra income", however, the public criticized the post, arguing that the youtuber already has a financially stable life and that the disclosure of the site could harm people who are looking for extra money and can be deceived by the website.
In the post, the youtuber wrote the following: "Anyone who follows me here on Instagram or on my channel knows that BLAZE is our official sponsor. In addition to having a platform with countless ways to earn extra income with games like Crash, Double and Mines, at Blaze you can also place your sports bets".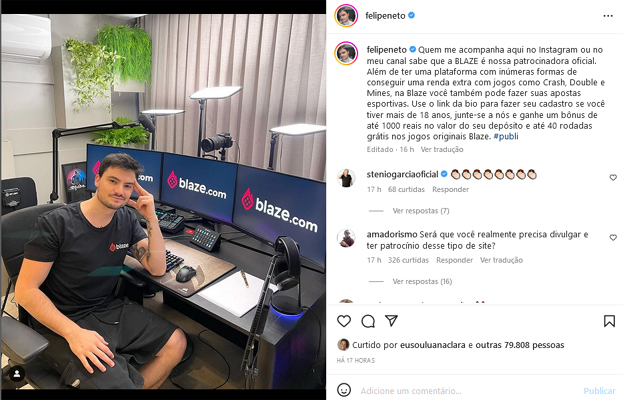 The speech did not please most of the followers, where many criticized Felipe's attitude: "Gambling is not EXTRA INCOME. DONE. It's entertainment, it's luck, you might win, get distracted. YOU WILL NOT GUARANTEE A EXTRA INCOME, IT'S NOT A WAY TO GUARANTEE IT," wrote a follower. "An extra income for him who is announcing, right", opined another.
A follower complained about Felipe Neto's publicity: "Hey Felipe, seriously???? I'm used to being on your side, but this time you went far, firstly because you don't need the money from that publicity, secondly because you know how much it takes money from those who need it and doesn't give a real return, a game of chance is TOO difficult to defend you".
Blaze and Felipe Neto partnership
The partnership between the influencer and the bookmaker Blaze was well criticized when announced and now returns to the spotlight with yet another controversy. Blaze is not headquartered in Brazil, making it difficult to be held accountable in cases of fraud. It has been the subject of many consumer injury claims.