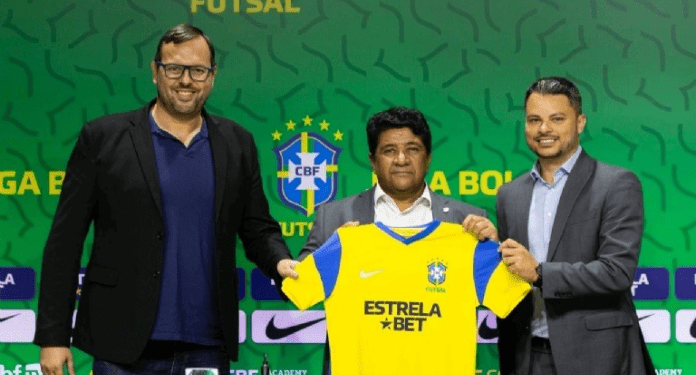 EstrelaBet was presented as the new main sponsor of the Brazilian Futsal Team. The agreement was signed at an event held on Thursday, the 26th, at the CBF headquarters, in Barra da Tijuca, in Rio de Janeiro.
The entity's president, Ednaldo Rodrigues, celebrated the partnership, which has been in effect since last month and will last until 2025: "this new agreement is part of the strategy that we defined in our candidacy. We want to give financial independence to all modalities. All proceeds will be invested in preparing the Futsal and Beach Soccer teams".
"We want to increasingly support the various forms of football. This sponsorship came at an appropriate time," added Rodrigues.
The agreement will include the exhibition of the betting brand in the main space of the selection's shirts – in the frontal region – both in training sessions and in official matches. In addition, the logo will be present on advertising signs, backdrops, relationship actions, social media and other actions.
In addition to the futsal teams, EstrelaBet will also have its brand stamped on the sleeves of the Beach Soccer Team's shirts, which will also compete in the FIFA World Cup, in search of the sixth, in 2023.
Rafael Zanette, Head of Sponsorships at EstrelaBet, highlighted the importance of this new partnership: "We consider this partnership one of the greatest in the history of EstrelaBet. Futsal is one of the most prestigious sports in the world, but nobody has perfected it like Brazil. of the CBF and stamping the shirt of a team that already had so many stars brings us an inexplicable pride. We have already placed a Star on the chest of the Selection, and now we are going in search of one more!".
The partnership between EstrelaBet and CBF Futsal was brokered by the agency TFW Marketing Esportivo, which will be responsible for producing and carrying out the events on the official calendar of the Brazilian Futsal Team during the term of the contract.