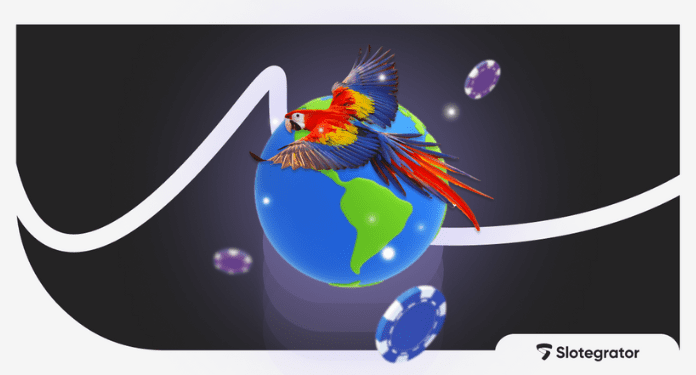 Online casino software developer and game aggregator, Slotegrator, has recently released its updated gambling platform with new features and improved modules. Now the company has announced that the platform has been updated for optimized operation in the Latin American market, with features especially needed in the region.
Latin America is a place with tremendous potential to start an iGaming business. According to expert estimates, total online gaming revenue in the region is expected to reach more than $2.5 billion by 2025. While the territories that regulated gaming are developing rapidly, new countries are opening up their markets with new regulations, for example: the Uruguayan Senate recently passed a bill to legalize online gambling.
The possibilities are limitless, therefore Slotegrator has taken steps to prepare its software to operate successfully in the region, providing operators with the opportunity to successfully expand their business in Latin America.
How can Slotegrator's platform help operators in Latin America?
Slotegrator's online casino platform now offers a new casino building module that allows operators to design the 'front end' of their project, taking into account the region's most common preferences in UX and UI.
With 'Casino Builder', operators can easily adjust the look of their site to appeal to players in Latin America. The flexible and adaptable 'back office' also allows operators to manage multiple website interfaces from a single tool.
The updated bonus module offers promotions and offers especially loved by Latin American players. More than that, the 'back end' of the platform has already integrated preferred payment systems and methods in the region, allowing players to deposit in their respective currencies, which helps operators to get rid of the burden of looking for the right payment methods and integrate them separately one by one.
Sports betting and online casino
Given the popularity of sports betting (especially football) across the region, offering local players the opportunity to gamble is a win-win strategy. To help operators give bettors what they are looking for, the Slotegrator platform has an integrated sports portfolio with a variety of sports types and data feeds.
For many Latin Americans, mobile internet is not just a convenience; it's the only internet access they have. The clear implication for online businesses is that whatever your product is, it needs to run smoothly in one hand and fit perfectly on a small screen.
In line with the locals' preference for mobile gaming, the Slotegrator platform is equipped with its pioneering innovative solution – Telegram Casino. This alternative 'front end' is available in the popular app, making it possible to conveniently get to casino games on smartphones. It also has sports betting options, making it a perfect product for the LatAm market.
Another advantage is that players can deposit directly into the app, as well as access all their favorite games from top providers in just a few clicks.
Game providers
When it comes to games, of course, when entering the new market, it's crucial to analyze which vendors and game types are especially popular there to give gamers what they crave. Slotegrator also has operators covered in this area.
For example, according to the company's analysis, some of the popular providers in the region are Igrosoft, Playson, OneTouch, Evolution and Pragmatic Play; the game content of all of them is integrated into the platform through the game aggregation solution 'APIgrator', which comes with the platform already included, but also works as a separate module.
Of course, it is important to know the local rules and regulations for entering the new market, so a major legal review must be conducted. Slotegrator offers free consultations and is ready to advise on entering Latin America. The company offers free educational materials, such as an ebook and a video explaining the peculiarities in the region, as well as offering business consulting services and help in the license acquisition process.