Gustavo José de Guimarães e Souza is no longer the Secretary of Evaluation, Planning, Energy and Lottery (SECAP) of the Ministry of Economy. He announced his departure from office this Wednesday, 19, on a social network. The professional claimed 'personal reasons' to end this period alongside the Ministry of Economy team.
"For personal reasons, I close this period with the Ministry of Economy team. I am grateful for the unique opportunity, as a public servant and citizen, to have contributed intensely to the country's economic policy in recent years. It was extremely gratifying to participate in different projects always aiming at the prosperity of Brazil and Brazilians, whether in the former Ministry of Finance, or in the current Ministry of Economy, both in the Special Secretariat of Finance and, more recently, at the head of SECAP", says the your statement.
The message continues: "I appreciate the engagement of peers and, above all, the dedication of the team, colleagues and friends, making sure that our public policies have advanced towards a future with more opportunities for all. "I fought the good fight, I finished the race, I kept the faith." 2 Timothy 4:7-8".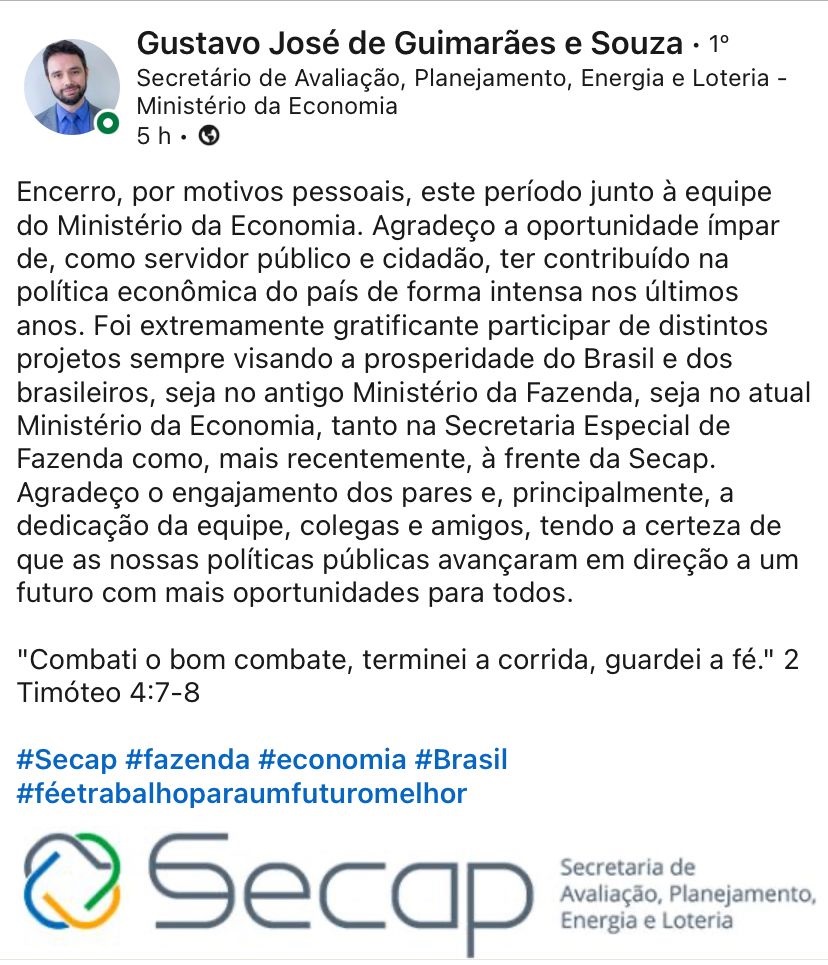 According to news, Guimarães is tipped to take on a new position outside the government. In charge of SECAP, he was directly involved in the process of regulating sports betting in Brazil and projected that this process would end this year. Guimarães' appointment to the SECAP secretariat was formalized in the Federal Official Gazette (DOU) on May 31, 2021. Before that, he was working as deputy secretary of the Special Secretariat for Finance.
Gustavo Guimarães was not the only secretary to leave the Ministry of Economy
In addition to Guimarães, other professionals also left the portfolio led by Paulo Guedes this week. All departures were announced as 'at the request' of the employees themselves, according to the Correio newspaper.
Cristiano Rocha Heckert resigned from the role of Secretary of Management of the Special Secretariat for Debureaucratization, Management and Digital Government. However, he was selected at the end of last year to be the new director-president of the Complementary Pension Fund for the Federal Public Servant of the Executive Branch (Funpresp-Exe).
In relation to the other departures, Mauro Sergio Bogea Soares also ended his time on the board of the Special Secretariat of the Federal Revenue program. And, Alexandre Avelino Pereira no longer serves as director of Management and Planning at the National Institute of Educational Studies and Research Anísio Teixeira (INEP). The auditor of the Comptroller General of the Union (CGU), Jofran Lima Roseno was appointed to this position.