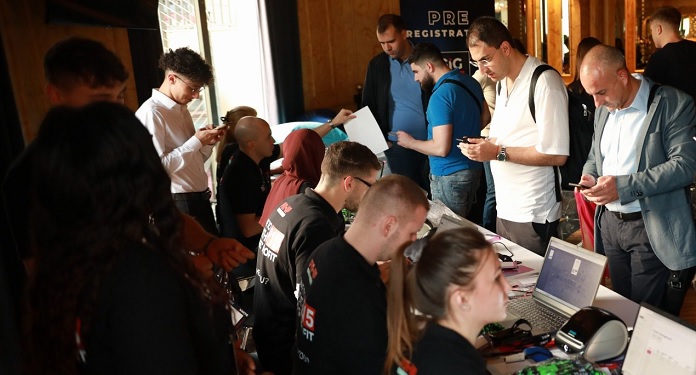 The top names in the global gambling and entertainment industry are gathered in Malta. The magnificent European island is hosting SiGMA Europe 2022, a conference of great notoriety in the world igaming industry. A prominent center in the sector, Malta will host debates, launches, social events and other initiatives between the 15th and 18th of November.
With titans of industry, thought leaders, pioneering business executives and seasoned technology professionals, SiGMA has become an internationally recognized center for business development and innovation. Its events have been a reference in setting the agenda for the future of the gaming industry.
With a vast and innovative program, SiGMA Europe 2022 is expected to host more than 14,000 industry players, including operators, affiliates, content professionals, payment solution providers, regulators and investors.
The iGaming Brazil portal is covering SiGMA Europe in loco and will bring exclusive interviews, information and images until the end of the event.
Schedule for Tuesday, November 15th
Regulation and compliance
Panel: Malta – maintaining its prominent position as the leading global gaming hub
The panel proposes to examine how, despite various challenges, Malta has remained resilient – becoming the jurisdiction of choice for the sector and a benchmark for other countries looking to emulate its success.
Participants: Olga Finkel (WH Partners), Pontus Lindwall (Betsson), Vanica Sant (William Hill), Carl Brincat (MGA), Enrico Bradamante (IGEN) and Mottil Gil (Aspire Global)
Panel: Germany and the Netherlands – the 'hot' issues
As Germany and the Netherlands launch licenses, there has been renewed emphasis on the importance of customer verification. This has left operators struggling to find the right balance between a seamless experience and rigorous authentication processes. The panel looks at the role that emerging technologies such as blockchain, device fingerprinting and risk scoring tools can play in keeping user experience in mind while meeting vital KYC, AML and responsible gaming obligations.
Participants: Joerg Hoffman (Melchers), Frieder Backu (Witzel Erb Backu & Partner), Galina Bineva (OKT), Justin Franssen (Kalff Katz & Franssen), Yannick Skulski (Hambach & Hambach)
Panel: Growing through regulation
An in-depth discussion exploring the current and future regulatory landscape of European iGaming. This session examines key challenges and highlights the best growth opportunities in the ever-evolving regulated markets.
Participants: Curtis Roach (iGaming Future), Dee Maher (Genesis), Matthew Curtis (L&L Europe), Andrei Andronic (Playson), Thees Buchmann (Platin Casino)
Panel: Legal and Compliance Roles
Regulatory authorities around the world require a number of different compliance requirements, from KYC, financial assets and data. How to keep up the pace? How can external partners help evolve this process? What will the future regulatory landscape look like?
Participants: Robert Zammit (WH Partners), Christopher Dalli (L&L Europe), Roger Tyrzyk (ID Now), Ian Perrygrove (Kwiff), Kristina Vranjjic (Superbet)
Speech by Javier Silvania (Curacao Minister of Finance)
Panel: Tax – Jurisdictional Updates
Participants: Ramona Azzopardi (WH Partners), Marinos Marinou (Maricorp), Silvani Cesare (Maisto and Associati), Steven Heijting (Texperience), Stephen Hignett (CMS)
Panel: Responsible gaming and sustainable business development practices
Participants: Simon Planzer (Planzer Law), Hilary Stewart-Jones (Harris) Hagan, Maris Catania (Kindred), Dan Iliovici (Rombet), Simon Vincze (Casino Guru)
Panel: How to Strategically Handle a Compliance Review
Participants: Rakele Cini (WH Partners), Steve Kettley (Wiggin), Franklin Cachia (CBS Group), Vlad Karols (ZBX), Stefao Filletti (Filletti and Filletti Advocates), Evdokia Pitsillidou (Salvus Funds)
Panel: Web3 – Play to win
As new trends emerge, there will always be a sense of FOMO – will web 3 play to win fall victim to this, or is it forging a new path in gaming?
Participants: Joseph Borg (WH Partners), Brandon Debattista (MGA), Andreas Glarner (MME Partners), Tanja Dimitrijevic (Red Acre), Taylon Freeman (Axon Park)
Panel: Player complains a lot in Austria and Germany – a legal mistake?
Uncertainty and confusion continue in Germany and Austria as operators are inundated with requests for refunds from players. The debate considers both sides.
Participants: Davinia Cutajar (WH Partners), Christian Rapani (Law Rapani), Nicholas Aquilina (Brand Talos), Christoph Leitgeb (DSC)
IMGL Masterclasses
Panel: Nurturing appropriate institutional relationships
Participants: Susan Breen (Reya's Mishcon). Reuben Portanier (GTG), Greta Agius (Betsson), Quirino Mancini (Tonucci & Partners), David Mcleish (Wiggin)
Panel: Lessons learned in Europe and applied in America or what Europeans learned from opening up to North America
This panel examines how European market experience can help operators set up shop in North America. What are the lessons learned and how can they be applied?
Participants: Marc Ellinger (Ellinger and Associates), Ron Segev (Segev)
Part of the official affiliate program
Panel: World Cup 2022
As the World Cup approaches, how global brands must use digital marketing to engage new generations.
Participant: Craig Campbell (Craig Campbell)
Panel: SEO and AI Entity Content – Applied for Leverage
The debate explores how harnessing the benefits of the entity's SEO and AI content can strengthen your site's structure and traffic acquisition methods.
Participants: Eitan Gorodetsky (Kitcode), Adrian Borg (Aphex Media), Mike Pearse (Aphex Media USA), Craig Campbell (Craig Campbell), Kyle Roof (Internet Marketing Gold)
Panel: More Keywords – Mindset, Semantic Optimization, and Advanced Interlinking
Want to rank for more keywords? Here's how to do it. The panel discusses everything from advanced interlinking to semantic optimization.
Participant: Kyle Roof (Internet Marketing Gold)
Panel: How to scale your SEO efforts with paid ads
When it comes to scaling your SEO efforts, paid ads can be a key part of your strategy for success. The conversation looks at how paid search deserves a place in your digital marketing plan.
Participant: Marcin Kumiega (Voluum)
Panel: Navigating a New World of SEO
The new first place – make sure your clipping is the first thing users see when reaching position zero. Here's how to do it.
Participants: Mike Prasad (Tinysponsor), Ognjen Curgus (SiGMA), Matias Bergehed (Esse N Videri), Sander Delabie (Clovio), Jorge Johansson (Captain Words)
Panel: How SEO strategy differs for regulated and unregulated markets and how to take advantage of both
Understanding your market is critical when it comes to SEO. The panel examines regulated and unregulated markets and looks at the different strategies you will need to pursue for each.
Participants: Ivana Flynn (WeSpin), Maxime Sabrie (Sky Limit), Martin Calvert (ICS), Maria Sayapina (GameLounge), Nicolai Ryan Klausen (Bazoom)