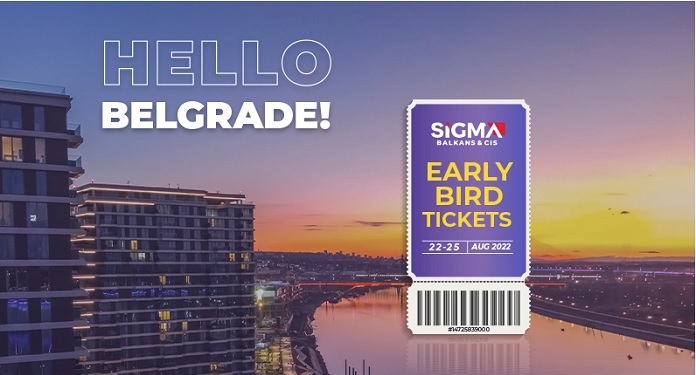 Advance tickets for the next SiGMA event in August in Belgrade are now available for people planning to attend the edition in the Balkans.
Tickets are limited and can be purchased on the SiGMA website until July 12, offering participants who plan their travels in advance substantial discounts on all three entry options.
Advance ticket offers
With a competitive price of 99 euros, the Premium option stands out as a popular choice among participants. This option includes a number of networking events, including entry to the Poker Tournament – ​​a friendly and competitive mix for players of all skill levels, a spot on the Cultural Tour guest list and a dinner party for top tier participants.
The ticket also grants full access to the exhibition hall, the Startup Pitch competition and all scheduled conferences. While Standard tickets, offered for just €49, offer full access to the exhibition hall and an invitation to the reception on the opening night of the SiGMA event.
Attendees who don't want to miss out on the full experience can take advantage of the Platinum ticket which costs €299. From full access to the conference and exhibition and a plethora of networking opportunities – including access to the Closing Night event and Gala Awards Night.
Event in Belgrade will take place between August 22nd and 25th
Taking place from the 22nd to the 25th of August in the city of Belgrade, the event will bring together the industry's brightest minds in the gaming and technology sectors for exposure, debate and networking.
With just over a week to go before advance ticket sales close, people wishing to update their options can visit the SiGMA website to take advantage of special prices for their first meeting in the Balkans.
With the New Gaming Law of 2020 creating a more responsible and well-regulated land and iGaming sector in Serbia, the country has the potential to host a robust and cutting-edge industry, attracting companies and talent from all over the world.
Throughout the event, two convention venues will be manned by world-class speakers, with an expert-led agenda designed to offer a 360-degree perspective on the trends driving the global gambling and technology market.
The event will also bring unparalleled opportunities to hit the right connections. From gala nights to celebrate the best of business and exclusive dinners to competitive poker tournaments and interaction with world-renowned personalities, networking is what SiGMA does best.
About SiGMA
From local startup to global enterprise, SiGMA is a brand created by a team of passionate people who have been in the online gambling and affiliate space for decades. The company takes advantage of incredible business opportunities involving its key verticals, invaluable access to industry insights and world-class connections.