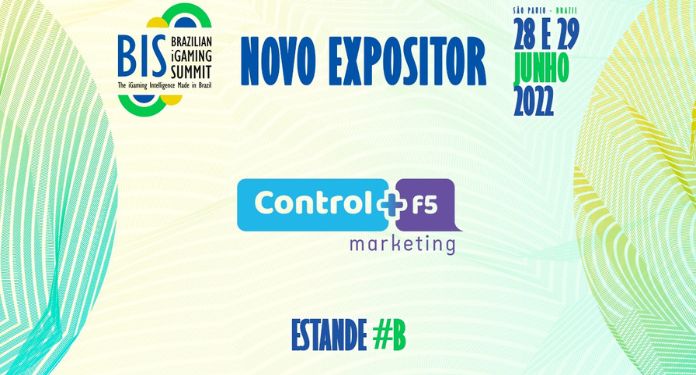 Control F5, always faithful to the Brazilian iGaming Summit (BiS), will be present with important news and speakers at the biggest event in the Brazilian market, which will take place on the 28th and 29th of June, at Espaço Boulevard JK, a scenario chosen especially to enhance networking and the experience of everyone present.
It will be a great meeting of professionals from the betting, lotteries and casinos sector and, combined with that, a series of panels and lectures with guests of the highest level and world prestige. The program was designed to improve the connection between national and international players present.
Because the 2021 meeting was so successful, this year the BiS formula is repeated. In its second consecutive year, the event promises to be marked in the history of sports betting.
Control F5, a key company in the field of Brazilian digital marketing, is among those that have confirmed their presence and promises to improve the 2021 experience, with great enthusiasm and a great desire to connect new people.
For Natalia Nogues, the company's investing partner, participation in the event is extremely important, "because it is the biggest event in the gaming market in Brazil today. In addition to being connected in the market, we are at our location, discussing the most relevant topics and exposing our knowledge to our customers, partners in our 'home'", she says.
We cannot fail to mention the Brazilian iGaming Awards, the BiS award night, which takes place on June 28, to reward and recognize those professionals who stood out during the past year in their areas of expertise. A way to honor and reward those who gave their best to the industry in 2021.
Afiliados LATAM
This year BiS brings an unprecedented and distinct proposal: Afiliados LATAM on June 30th, the first exclusive event in the iGaming market, which covers not only sports betting, but also casino and lottery games. There is also a third day of exchange of experiences, business within Afiliados Latam, organized by Jericho Eventos.
The event will feature the presence of important companies in the sector, experienced speakers in affiliate marketing and digital media in general, in addition to hundreds of affiliates, forming a perfect networking environment.
Brazilian iGaming Summit (BiS)
The second edition of BiS should once again bring together the main representatives of the sports betting, lottery and affiliate segments. After all, this event has already established itself as an international reference for receiving politicians, regulators, operators, authorities, ambassadors and representatives of world players.
With Brazil becoming an exponent in the sports betting and gaming industry, numerous companies from the three sectors are following all the developments of the regulatory process. Thus, the objective of BiS 2022 will be to offer relevant, updated content that helps to project the future of the national market.
The event takes place on June 28 and 29, at Espaço Boulevard JK, in São Paulo.