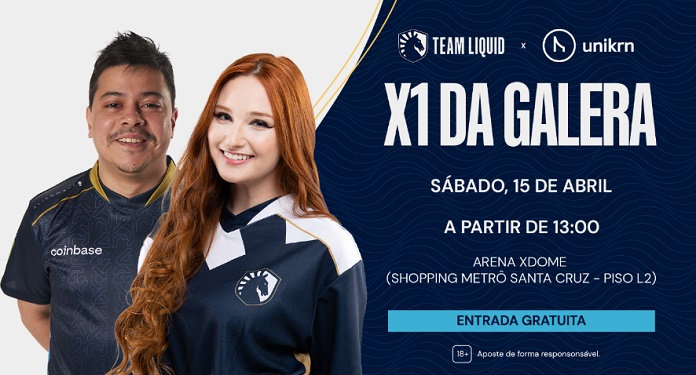 Team Liquid — an international eSports organization — and Unikrn, an electronic sports betting and gaming platform, will hold a face-to-face event in São Paulo this Saturday, 15, which will celebrate the partnership between Cavalaria brands and fans. The free event will be held at the XDome Gamer Lab space at Shopping Metrô Santa Cruz, from 1pm to 7pm.
The event will bring together content creators and talent from Liquid such as FRTTT, Haru, Rakin, and ziG. It will also feature several special guests including Danny Jones, MoonKase, Nahzinhaa, Steph, The Darkness and Wendell Lira.
During the event — which is only open to people over 18 years of age — visitors will be able to participate in meet & greet sessions, compete for several important titles on the venue's stage and take part in activations with guests throughout the event.
Participants will have the chance to test Unikrn's world-class betting platform for free in PvP matches to climb a custom leaderboard, with the top three players earning the chance to compete against Team Liquid members.
Fans attending the event or watching from home will be able to follow the broadcasts held at the venue. Unikrn is offering special betting markets on these streamer matches, including how many games these streamers will win during the event and how many kills they will secure in each match.
"Team Liquid is always looking for partnerships that add to the Cavalry fan experience. Together with Unikrn – a secure platform that understands the passion of gamers – we are going to bring fans closer to our talents and generate exclusive content, tailored for gamers in the country", said Rafael Queiroz, general manager of Team Liquid in Brazil.
"Being close to Cavalaria fans is one of Team Liquid's priorities in Brazil, and face-to-face actions like this one, which bring fun, entertainment and memorable moments, are always very welcome, especially alongside great partners like Unikrn".
"Brazil is a very important and strategic territory for the organization and this type of event reflects this thinking. Liquid has a global and welcoming community that celebrates the game and respect, and this Saturday we are celebrating the fans."
Unikrn CEO Justin Dellario also commented: "Like Team Liquid, Unikrn understands the importance of connecting with local communities and providing powerful experiences that will resonate with them."
"We know that Cavalaria's passionate fan base will bring out the best in them and we're excited to see the action unfold live in São Paulo and on stream for other Unikrn players watching at home."
About Unikrn
Unikrn is the most expansive gaming and esports betting platform on the market, built for the passion of a new generation of gamers and esports fans.
It features all the gaming community's favorite titles, offers more betting options for users to customize their betting experience, and gives players the ability to test their skills and raise their stakes in their ranked matches.
The platform is safe, secure and accessible for players of legal gambling age to boost their fandom. Unikrn aims to challenge the status quo in betting – to put the player first and evolve beyond a purely transactional relationship.