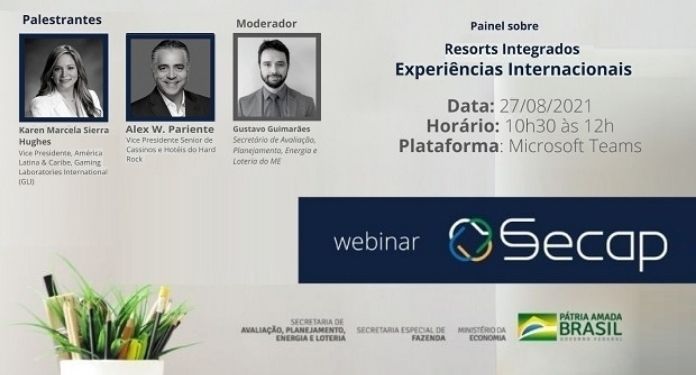 Next Friday, 27th, the Secretariat of Evaluation, Planning, Energy and Lottery (Secap) of the Ministry of Economy will promote a webinar "Integrated Resorts: International Experiences". The online event is scheduled to take place between 10:30 am and 12:00 pm via the Microsoft Teams platform.
The conference will be attended by Alex Pariente (Vice President of Casinos and Hotels at the Hard Rock) and Karen Marcela Sierra Hughes (Vice President of Latin America and Caribbean Gaming Laboratories International – GLI). The moderation will be in charge of the secretary Gustavo Guimarães.
The debates in the Chamber and in the Federal Senate are aimed at resuming the operation of casinos and other types of games in the country. In addition, the webinar intends to explore the possibilities that this business model could bring to the country's economy, leveraging a series of segments.
Hard Rock is one of the leading casino resort chains on the planet. In the country, the group has always shown interest in cooperating with the national government, detailing its experience around the world, as well as confirming its interest in investing in casinos in Brazil.
Caribe Gaming Laboratories International (GLI) is a company present on all continents. In addition, the GLI stands out as a reference in certification and collaborates with those responsible for different countries. Brazil is also one of the countries served by GLI.
Panel registrations
Those interested in participating in the Integrated Resorts Webinar can register for free, just click here. The participant will need to provide a valid email address, full name and the representative institution.
About Secap
The Secretariat for Evaluation, Planning, Energy and Lottery succeeded the Secretariat for Fiscal Monitoring, Energy and Lottery and operates in 4 areas: assessment of public policies and their impacts, government planning, formulation and monitoring of public policies in the energy sector and governance of awards and sweepstakes.