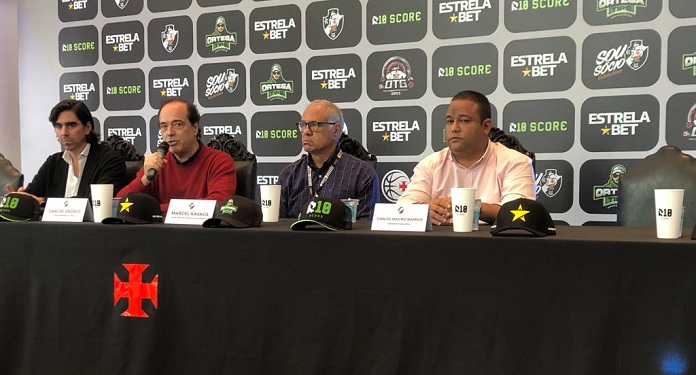 Vasco da Gama announced the resumption of men's basketball with a view to participating in the NBB 2023 / 2024, the main competition of the sport in Brazil. The bookmaker, EstrelaBet, is among the partners in the return of the sports project.
The 1st Vice-President Carlos Roberto Osório was in charge of the event. Also present were the Vice President of Olympic and Paralympic Sports, Marcel Kaskus, the Director of Basketball, Pedro Ortega, the Commercial Director of Basketball, Carlos Alexandre, the Executive Manager, Carlos Magno Barros and the General Coordinator of Basketball Gegê Chaia .
It is worth noting that Gigante da Colina's basketball project is self-sustainable and initially has no connection with the Sociedade Anônima do Futebol (SAF), which is managing the club's football. Basketball will receive capital contributions and sponsors who want to rescue the history of Cruz-Maltino in the sport.
"I couldn't not be here today to celebrate Vasco's return to the NBB in this 2023/2024 season, this centennial and giant club on the national scene. Vasco's history with the National Basketball League began in 2016, when the club won the Liga Ouro and qualified to play for the NBB, played three seasons and stayed out of the competition for a few years, but today I am here, with great joy, to share this news that is excellent for Brazilian sport, Vasco's return to the NBB", said the president of LNB, Rodrigo Montoro.
Director of EstrelaBet celebrates partnership with Vasco
The Head of Sponsorships at EstrelaBet, Rafael Zanette, stated that the bookmaker seeks to encourage the practice of sports in Brazilian territory. "It is a great pleasure to be able to enter the history of a club as traditional as Vasco da Gama", he declared in an interview with Lance!.
"We hope to help the team regain its place in Brazilian basketball, which has always been about fighting for titles and revealing great athletes, and they can count on EstrelaBet's support for that. We always say that our sponsorships go beyond simply "inserting our logo" on the shirts, but grow together", he added.