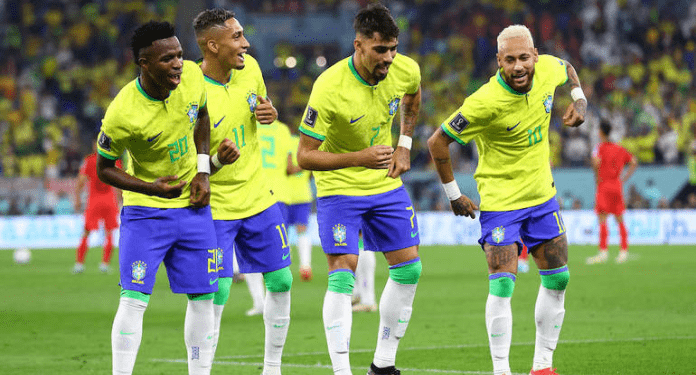 Brazil won a convincing victory over South Korea, imposing an impressive score of 4 to 1 this Monday, December 5th. The result consolidated the position of the Brazilian team as favorites to win the sixth championship in the bookmakers.
After this great victory, the team will face Croatia next Friday, December 9, to fight for a place in the semifinals of the World Cup. In the last Cup, held in Russia in 2018, Brazil was eliminated by Belgium 2-1 in the quarterfinals.
After losing 1-0 to Tunisia in the last game of Group D, France once again became the second favorite team to lift the trophy, beating Poland 3-1 on Sunday, December 4th. The French will face England, who beat Senegal 3-0, in the quarterfinals of the competition.
Even with the classification over the selection of Australia by 2 to 1 on Saturday, December 3, Argentina fluctuated down and now occupies the third place in the ranking of the favorites for the title, according to the bookmakers.
This Tuesday, December 6th, the final classifieds for the Wednesdays will be defined. The first confrontation will be between the selections of Spain and Morocco, at 12h – Brasilia time. Portugal and Switzerland will compete for the last spot starting at 4 pm (Brasília time). The matches already defined in the quarterfinals:
Croatia v Brazil – December 9 at 12pm; Netherlands v Argentina – December 9 at 4pm; England v France – December 10th at 4pm.
Now, in the sports betting scenario, the payout for each real bet on the selection is multiplied by 2.9, on average. The probability of a Brazilian victory is almost double that of the French team, which is multiplied by 5.7. Check the odds below: