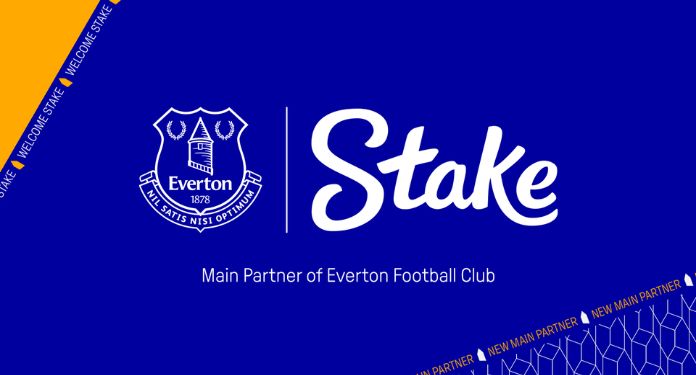 Everton Football Club has concluded a master sponsorship deal with Stake.com. The partnership will commence on July 1, 2022, kicking off a multi-year deal representing the largest sponsorship in Everton's history.
The betting brand will appear on the front of the men's and women's squad shirts, as well as at the club's training ground, Finch Farm, and on screens and media spaces at its stadium, Goodison Park.
Commonly known as a cryptocurrency bookmaker around the world, the Stake.com brand operates exclusively as an online casino and sportsbook in the UK. It is fully licensed as such by the UK Gaming Commission.
Stake.com's new relationship with Everton is one more in its portfolio of sports partnerships. The operator was recently revealed as the official betting partner of the UFC in both Latin America and Asia.
Argentine forward Sergio Aguero and rapper Drake are part of Stake.com's diverse portfolio of global ambassadors as well, alongside UFC champions Israel Adesanya and Jose Aldo.
Stake.com's Head of Acquisition, Akhil Sarin, said: "We are incredibly proud to partner with Everton, a club steeped in tradition with a passionate and loyal fan base respected around the world."
Everton's latest deal with Stake.com comes as part of an effort to increase revenue across all of the club's assets. The club ended its main partnership deal with Cazoo at an "early" stage, allegedly helping it to clinch a partnership with the betting site.
Recently, Everton owner Farhad Moshiri admitted that a number of "mistakes" had been made at the club, in a season that saw it narrowly avoid relegation from the Premier League.
In her agreement with Stake.com, Everton Chief Executive Denise Barrett-Baxendale said: "Stake.com is an ambitious organization with impressive growth plans and we are all excited to partner with them at this stage of their journey".
"We are already working with Stake.com on some exciting activities and content for our local and international supporters and we look forward to sharing more details about these plans soon," added Denise.