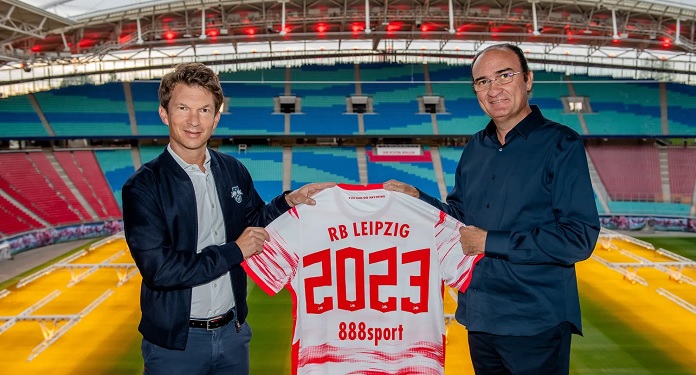 The 888 group's online sports betting brand, 888sport has announced a partnership with RB Leipzig, closing its first contract with a top football club in Germany. The partnership will last until at least 2023, with 888sport as the official partner of the team.
The 888sport brand will appear in several prominent locations around the Red Bull Arena, as well as on the German football club's digital channels. The operator will also become the host of the RBL Prediction Game, which gives fans the chance to win prizes like autographed shirts and game tickets throughout the season.
"As in all matters related to football, we always seek to strengthen ourselves in the area of ​​partnerships, especially those that fit our philosophy and orientation", said the commercial director of RB Leipzig, Matthias Reichwald.
Reichwald continued: "We found one of these at 888sport and are proud that 888sport sees us as a suitable partner for its entry into the Bundesliga. 888sport is a consolidated brand that would like to grow even more nationally and internationally, which exactly corresponds to our vision, and now we can face this challenge together".
888 Vice President and Sports Director Kieran Spellman also spoke after signing the contract: "We can't wait to support the club in its future development and do our part to help RB Leipzig continue to establish itself as one of the top three teams in Germany".
Spellman concluded: "This goes hand in hand with the successful regulation and licensing of 888sport in the German online sports betting market. This partnership is a sign of 888sport's long-term commitment to Germany."
About 888sport
888sport is a multinational online sports betting company based in Gibraltar. It was founded in 2008 and is a subsidiary of 888 Holdings plc. The company offers online sports betting, predominantly in European markets.