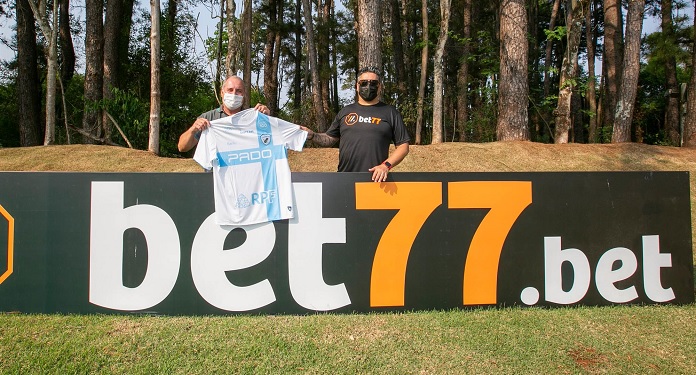 Sports betting company, Bet77.bet is the new partner of Londrina Esporte Clube for the sequel to the 2021 season. The sponsorship agreement was formally revealed this Thursday, 30, on the CT of SM Sports.
Bet77.bet CEO Marcelo Lopes and SM Sports Marketing Director Marcelo Risso announced and signed the contract. Lopes is a native of Londrina and said it is a pleasure to see the bookmaker's brand stamped on the shirt of the city's club.
"It's a pleasure to partner with Londrina, because I'm from London, I was born here, I love this club and I've been to the stadium a few times, I don't have that much time to go, but it's a personal achievement to partner with Londrina" , highlighted Marcelo Lopes, CEO of Bet77.bet.
The marketing director of SM Sports, Marcelo Risso, also made a point of expressing himself and stressed the importance of having local businesses supporting the club at this time. "A brilliant year regarding the issue of sponsorships, we have practically all properties sold in a season that is still in the pandemic."
Risso concluded: "For us it is very gratifying and more gratifying is knowing that a partner has personal satisfaction by associating his company with our team".
Season 2021 of Londrina
Currently, Londrina is playing in the B Series of the Brazilian Championship and faces difficulties to avoid the risk of relegation to the third national division.
The team is in 17th position with 33.3% of success and 27 points, two points less than Brusque, the first team out of Z4. The team's next appointment will be against Sampaio Corrêa, at the Café stadium, this Sunday, 3, at 8:30 pm.
About Bet77.bet
Bet77.bet is an online entertainment site that offers players a unique sports betting experience. The brand is a partner of another Brazilian team at the moment, Campinense.
According to information on the official platform, Bet77 is operated by Bettergames Entertainment, an entity duly authorized by the Government of Costa Rica.