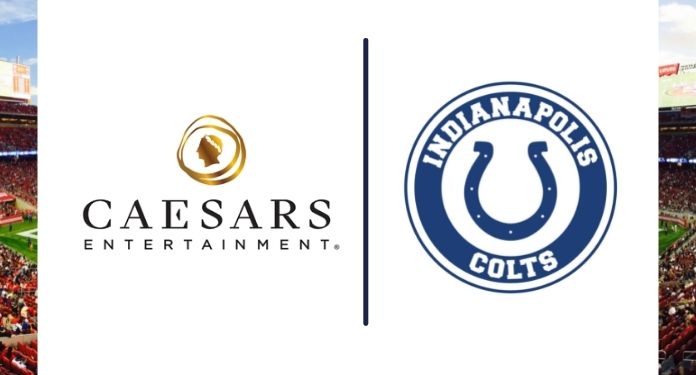 Caesars Entertainment has been designated as the only official casino and sportsbook partner for the Indianapolis Colts.
The new agreement expands Colts-Caesars' existing partnerships with Harrah's Hoosier Park Racing & Casino and Indiana Grand Racing & Casino. As part of the expansion, Caesars' newly launched sportsbook will receive additional marketing and sponsorship assets.
These include naming rights for Lucas Oil Stadium's South Gate, which now becomes Caesars South Gate, and the opening of a Caesars Sportsbook lounge in the former Blue Room at Lucas Oil Stadium.
Live odds will be displayed on LED screens and Caesars ambassadors will be available to help fans download the 'Caesars Sportsbook' app and place bets. Additionally, Caesars will sponsor the free mobile prediction game "Pick 6".
An Essential Partnership for Caesars Entertainment
Roger VanDerSnick, Colts Director of Sales and Marketing commented, "We've been a proud partner with Caesars properties in Indiana for some time, but this new partnership expands our ability to offer Colts fans a truly unique experience, whether at the Stadium Lucas Oil or watching from home on gameday."
With football season in full swing, Caesars will continue to be integrated into the franchise's media and marketing efforts, bringing exclusive offers and promotions directly to fans through the new brand's sportsbook app.
Chris Holdren, co-president of Caesars Digital, noted, "Expanding our sponsorship with the Colts to serve as their premier sportsbook partner and only casino partner is an exciting step in our long-standing relationship."
"Indiana has been a special place for our company, and we know how these big fans of the sport are passionate about their team at home."
"Caesars will continue to push for innovation to bring the best in sports experiences, both in-person and mobile, to Hoosier State through Caesars Sportsbook and our partnership with the NFL," concluded Holdren.