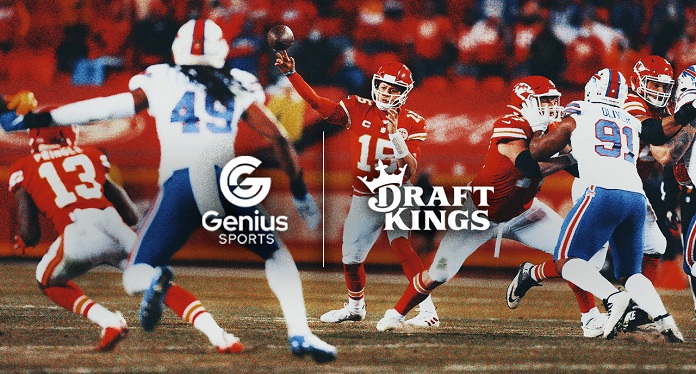 Sports betting company DraftKings is gearing up for the new National Football League (NFL) season, lining up with Genius Sports in a long-term dice deal. The settlement provides DraftKings exclusive NFL sports betting data, as Genius Sports is the official rights holder
From now on, DraftKings will have access to Genius' live video feeds of over 170,000 sporting events per year and fan retention services such as marketing technology to attract customers.
DraftKings Business Director Ezra Kucharz called the partnership "mutually beneficial", adding that the alignment with Genius will allow the company to "expand the capabilities of our products and provide exciting new features for our customers."
DraftKings Increases Revenue Forecast for FY 2021
DraftKings reported revenue of $312 million in its first quarter earnings report. The company also raised its forecast for fiscal year 2021 to a range between $1.05 billion and $1.15 billion. In April, DraftKings joined Caesars and FanDuel in a partnership focused on the NFL sports betting market.
The agreement allows sports betting companies to use the NFL's intellectual property and its trademarks for promotions. The companies will also operate on a content-sharing model with the NFL.
The London-based data and technology company also struck a deal with the NFL last April and is allowed to distribute real-time league statistics. This four-year deal can be estimated at $1 billion.
According to the American Gaming Association (AGA), sports betting is legal in 22 states and the District of Columbia, and DraftKings is positioning itself to enter more markets, including New York.
The state is close to allowing mobile betting and estimates the market will bring in $482 million in tax revenue, according to The Wall Street Journal. New York plans to charge platforms a one-time $25 million license fee for access.
In addition to the NFL data, DraftKings will obtain data from the National Basketball Association (NBA), Major League Baseball (MLB) and NASCAR. Genius Sports also has international football partnerships with the Premier League and Liga MX.