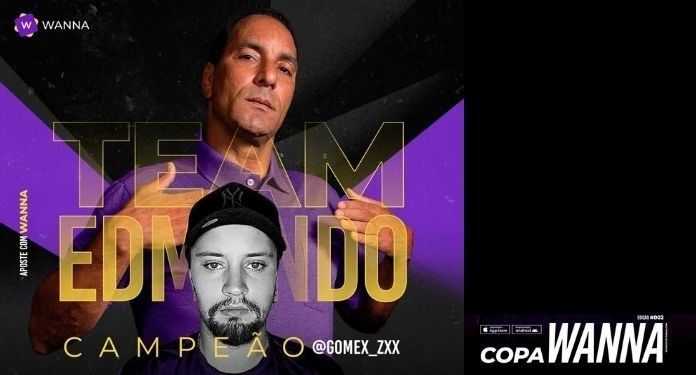 Created by the sports betting app Wanna, this is the first dispute in the history of the market that allows users to test their sports knowledge.
In its second edition, the definition of the competition brought Mikael Gomes as the winner, who won the best of three in the Premier League and Bundesliga championships.
"Participating in the Wanna Cup was very rewarding. To be champion with strong opponents was even better. I found the initiative incredible. I used to bet before, but Wanna stood out for the ease of placing bets and for promoting greater interaction between users, "says Gomes.
The first edition of the Wanna Cup was a success and brought perspective to open new paths to competitive events for sports betting.
Competition featured teams from Edmundo and Souza
In this edition, Souza and Edmundo led a team of 8 competitors, formed by digital influencers, users of Wanna. The teams also had professional bettors Fábio Bampi, Nettuno and Danilo Martins as strategists.
The competitors themselves decided the games of different sports and leagues on the day of the dispute, following a format better than three. The competitor with the most wins was still in the competition.
The result was a unique experience in a virtual environment, which shows how sports betting can be used as healthy entertainment.
"Wanna is the sports bettors' social network. We are the only platform on the market capable of putting real users face to face to test their knowledge of the sport with a bet. That is why a competition like Copa Wanna is exclusive to our app ", says Nicole Brandão, Head of Marketing at Wanna.
In addition to allowing people to challenge themselves, at Wanna, the ability to create bets is also in the hands of users. "This is another Wanna exclusivity in the market. Other platforms concentrate the power to create bets in your hands, which does not make sense to us. Sport is passion, it is competition, it is fun and it must include fans in all ways ", adds Nicole.
About Wanna
Wanna is a social sports betting platform that promotes community development and gives players the ability to test their sports knowledge in a competitive environment, while having fun and having a safe experience.
With the proposal to become a sports betting social network, it provides a space for sports fans to interact with each other, be entertained and resolve their differences with a friendly bet. The goal is to connect people and share experiences, in order to eliminate stigma in the sports betting industry.