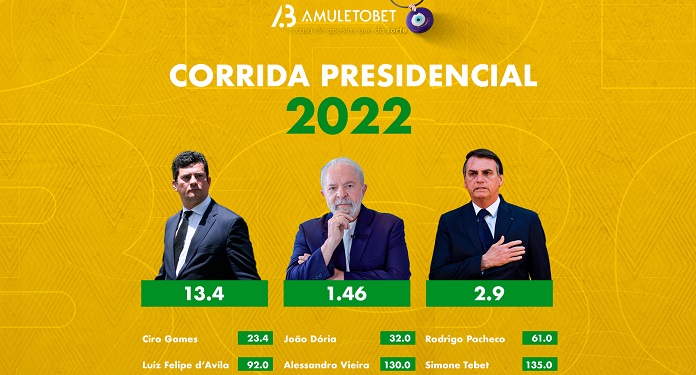 In the coming months, the Brazilian population will decide at the polls if the country will reach its ninth President of the Republic after the restoration of democracy or if Jair Messias Bolsonaro will be reelected and will remain in power for another four years.
Due to such a great impact on the reality of Brazilians, the bookmaker AmuletoBet, attentive to the main themes that are currently in vogue in the country, launched the presidential race odds.
First placed in the polls for voting intentions, former president Luiz Inácio Lula da Silva (PT) has the lowest odds among candidates who intend to climb the plateau ramp on the first day of 2023.
AmuletoBet offers more betting options for players
In addition to Lula, Bolsonaro and Sérgio Moro, who appear in the featured image with their respective odds, AmuletoBet provides the chance that you can bet on other names, such as Ciro Gomes (PDT), João Dória (PSDB), Rodrigo Pacheco ( PSD), Luiz D'Ávila (Novo), Alessandro Vieira (Citizenship) and Simone Tebet (MDB).
The senator from Mato Grosso, in turn, has an odd of 135 reais for each real invested. Remembering that AmuletoBet constantly monitors market trends, as well as the behavior of Brazilian players.
With the intention of becoming the favorite bookmaker for Brazilians, the group believes that the presidential race is the perfect opportunity for Brazilians to get to know bookmakers even more and abandon informality – such as betting in groups of family or friends – aiming to definitely enter the safe and reliable environment of AmuletoBet to bet.
Elections 2022 in Brazil
General elections in the national territory in 2022 are scheduled to take place on October 2, in the first round, and on October 30, in the second round. On these dates, the president, vice president, senator, federal deputy, state deputy, governor and vice governor will be elected.