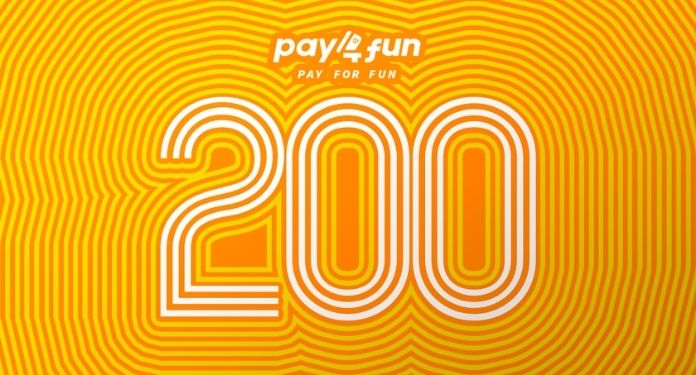 Pay4Fun, fintech specializing in digital wallet services and financial transactions, this month reached the milestone of 200 partners connected to its platform.
About a year ago, the 100% Brazilian company had 100 partnerships. The years 2020 and 2021, even though they were economically turbulent for the whole world, were ones of growth for the company, not only in terms of commercial partnerships but also in terms of its customer base.
Check below the interview conducted by Tatiana Peterson with Leonardo Baptista, CEO of the company.
Tatiana Peterson: Last year, we did an interview about the brand of 100 partners integrated into Pay4Fun. Now, you've doubled the partnerships. To what do you attribute this company's rapid growth?
Leonardo Baptista: We started about 3 years ago, with an initial work, however, very dedicated by our commercial department. We reached 100 partnerships in 2020 and the path to 200 in 2021 was followed by the quality of our work in these years, propagated by the first 100 partners and all customers.
Our niche market exchanges a lot of information, both good and bad. I believe that this positive word of mouth from our customers was what made the partnerships quickly double. I can say that, fortunately, during this period, they knocked more on our door than we knocked on the door of clients.
Leonardo Baptista: As soon as PIX was launched, Pay4Fun went after it to be one of the first to make the technology available to our customers. The PIX certainly increased our movement a lot, as before, it took a lot of manual operations to carry out a transaction. Deposits via traditional banks required the customer to request release through customer service, etc. The PIX makes these operations much less bureaucratic.
In our market niche, the competition is outside Brazil, which makes Pay4Fun at the forefront in terms of regulations with the Central Bank, which is very positive for our business partners and end customers.
The brand's good service made partnerships increase
Tatiana Peterson: What is your analysis of the post-pandemic Fintech market and how will Pay4Fun position itself in the market after the Covid19 hurricane?
Leonardo Baptista: It is undeniable that Covid-19 was a global hit, something that marks the history of humanity, in a sad way. However, the disease containment plans ended up benefiting all companies in our field.
Fintechs, digital banks, in short, digital means of payment ended up growing a lot during this period. All of us, in some way, were converted online. Even those who had resistance to the virtual world, were forced to use the digital, and learn to deal with technologies.
With all that, Pay4Fun has only expanded. Of course, the start of the pandemic was a big scare for us, as all games and competitions stopped in the world! The online betting segment has been severely damaged.
On the other hand, everyone's primary means of entertainment had to be digital. In this way, verticals such as poker, casino, bingo, all online, ended up exploding and supplying the lack of face-to-face events and the demand for fun.
And now the disease is more under control. However, I continue to see an illuminated scenario for our sector. Anyone who has tried online will not get out of it with the end of the pandemic. What will grow offline are personal coexistence markets, such as the tourism sector, restaurants, bars, etc.
However, the means of online transactions, such as Pay4Fun, will continue to grow, as they will even make face-to-face coexistence markets viable.
Pay4Fun's differential is the qualified service
Tatiana Peterson: What are Pay4Fun's plans regarding new products and services?
Leonardo Baptista: Pay4Fun has expanded a lot in the Brazilian market. Next year, we will be launching a new product that bridges the online and offline worlds. We already have the Pay4Fun Card, but this new product makes it possible to pay bills in restaurants, bars and other commercial partners in physical stores, which are already being negotiated.
We will also have news on Pay4Fun Store, mainly for the public who likes eSports and virtual games. We are closing important partnerships in this segment, because Pay4Fun customers will be able to use their wallet balance to purchase electronic games.
Throughout 2022, Pay4Fun will also be expanding its operations in international markets, in Latin American countries such as Chile, Mexico, Peru and Canada, in North America.
Tatiana Peterson: Pay4Fun is a company that, in addition to offering high technology, aims to provide personalized service to customers and business partners. How have the company's results been in relation to this type of management?
Leonardo Baptista: Pay4Fun acts as a link between partner sites that provide services and the end consumer. We have heard positive feedback from both sides. Offering real quality service and all possible support for these 2 types of customers is our differential.
For example, our end customer will never talk to a robot, will not be frustrated by it. Our team is trained to have solutions, calm, patience, that is, to give this client a hand.
On the commercial partners' side, our service is fully available. We serve operators 24/7/365 through all available channels, whether it's LinkedIn, Skype WhatsApp, email, or any other.
Technology is a commodity these days. Everyone has access to technologies. That's why Pay4Fun's differential is the qualified service.
A good phase of economic recovery and growth
Tatiana Peterson: It is a fact that Brazil and the world present a problematic economic scenario after almost 2 years of pandemic. Inflation, scarcity of inputs, energy crisis, climate and other factors have been challenges for any entrepreneur. What message do you leave to (brave!) entrepreneurs or those who intend to undertake?
Leonardo Baptista: Everything in life passes. I understand that there was a recession, however, many people continued working, the home office came out strong. Before the pandemic, people spent money on travel, parties, events, etc. And now? That money has been dammed up for all this time!
I believe that in the coming months of 2021, on the 22nd, 23rd, Brazil will present a strong economic recovery, even though we still have a traumatic scenario after Covid-19. I believe that with the economic recovery, the return of that money that was left behind, will generate a consumption boom.
Even with detachment and mask, it is visible that the great capitals already have a lot of movement. The surviving restaurants and bars are full, so are the shopping malls. Tourism has reheated, flights are full, hotel vacancies are being disputed again.
For all these factors, I advise anyone who has a great idea, a good idea, to undertake and do it now, as they will hitch a ride in a good phase of economic recovery and growth in the next two years here in Brazil.