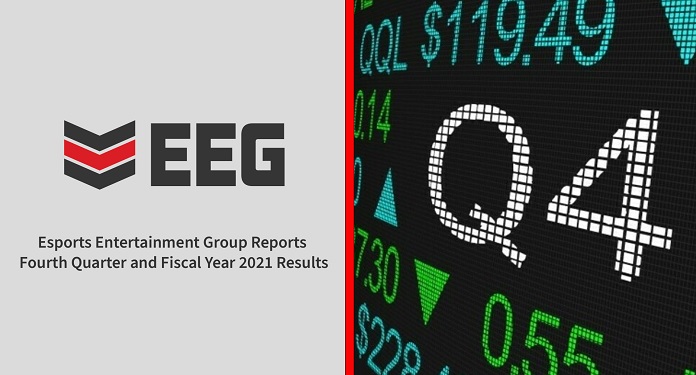 Esports Entertainment Group reported net income of $16.8 million for the 2020-2021 full year results ended June 30.
The group did not categorize or reveal how much of its revenue came from its betting operations. However, the deal also had significant costs. Income-related expenses alone totaled $7.8 million.
Figures presented by Esports Entertainment
Sales and marketing expenses reached $10 million, an increase of $9.7 million compared to full-year results for 2019-2020. General and administrative costs of $24.6 million were up a considerable ​​$20.8 million year-on-year.
In total, operating expenses totaled $42.5 million, reaching an annual high of $38.4 million. This led to a total operating loss of $25.7 million, up $21.6 million from the prior year compared to the $4.1 million loss in 2019-20.
The company then paid other non-operating expenses. Interest costs amounted to $698,973, while other expenses amounted to $3.2 million, although this was offset by other non-operating income of $460,328. In total, the pre-tax loss totaled $30 million, up just under $20 million.
However, income tax benefits rose $3.8 million, bringing the total net loss for the year to $26.3 million. This was an annual growth of $16 million.
In the fourth quarter, Esports Entertainment reported net income of $8.8 million, with no comparable figures available. With total operating expenses of $19.2 million, the total operating loss was $10.4 million. This was an increase of $8.3 million year-over-year.
CEO projects significant growth in 2022
"The formidable foundation we've built since 2020 has generated strong performance in the fourth quarter and sets our business up for significant growth in 2022," said Grant Johnson, CEO of Esports Entertainment.
Johnson added, "The partnerships we've formed, from the best professional sports teams to industry-leading eSports organizations, clearly demonstrate the strength of our broad portfolio of products and services. I believe our future is bright as we continue to execute our rapid strategic expansion driven by the solidification of our market position and the continued growth of our unique assets."
Esports Entertainment has recently completed several partnerships, closing deals with National Football League (NFL) franchises, Tampa Bay Buccaneers and the Indianapolis Colts, as well as the Indian Gaming Esports Association in recent months.