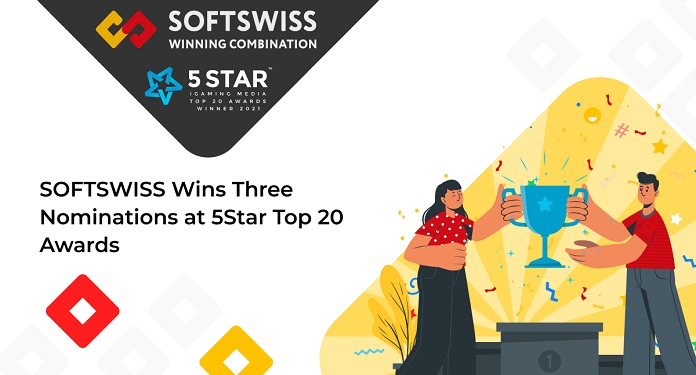 SOFTSWISS is proud to announce that three of the brand's C-level representatives have been awarded the best in the iGaming segment in 2021 at the 5STAR Top 20 Awards. SOFTSWISS founder Ivan Montik, CMO Valentina Bagniya and CCO Max Trafimovich were chosen as the most brilliant experts in Leadership, Marketing and Business Development.
This achievement highlights the company's growing importance in the global industry. Furthermore, it confirms the group's deep experience in the main aspects of business management, which will ultimately have a positive impact for the brand's customers. SOFTSWISS' experience, together with innovation and safety, is one of the main values ​​that the brand holds to provide high quality solutions that meet the requirements of the industry.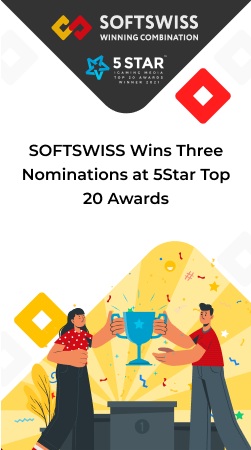 It also comes as the group welcomed its 800th employee this month. SOFTSWISS highly values ​​its team, made up of top-notch professionals with several years of experience in the area. Together they help to innovate and improve the entertainment and gaming landscape.
SOFTSWISS appears among the best in the industry for the fourth time in 2021
This is the fourth time this year SOFTSWISS has been chosen as one of the most influential brands in iGaming – as the brand's solutions were previously selected at major awards ceremonies such as the International Gaming Awards 2021 (IGA), EGR B2B as well as Global Gaming Awards.
This time, the 5STAR Top 20 recognized the contribution of SOFTSWISS. This is a prestigious award that endorses the most influential individuals in iGaming for their outstanding contribution to the innovative development of the world market. Each year, 5STAR honors 20 people who are leading the iGaming industry.
As a reference in iGaming, SOFTSWISS aims to inspire trust, transparency in actions and openness through its leaders. The brand is also proud of its employees, who create reliable and secure business solutions that win in the highly competitive market and add value to the clientele.
About the company
SOFTSWISS is an international technology brand providing acclaimed software solutions for managing iGaming operations. SOFTSWISS provides a "one-stop-shop" solution, handling all technical, legal and financial processes on behalf of its clients.
Currently, the group has several products, such as an online casino, casino games aggregator, an affiliate platform and sports betting service. In 2013, the company pioneered an online casino solution optimized for bitcoins. Since then, SOFTSWISS has been identified as a leader in the use of cryptocurrencies in online games.