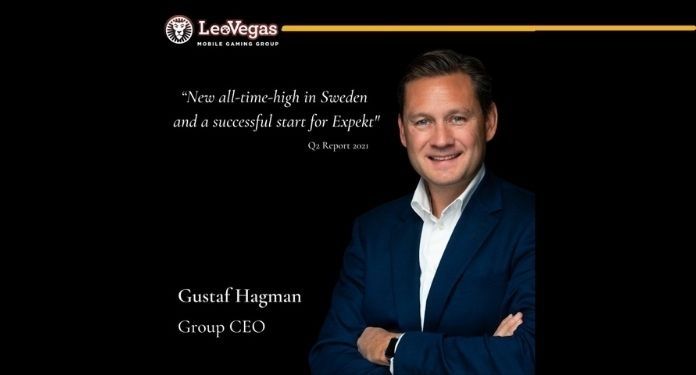 LeoVegas revenue for the second quarter totaled €96.8 million, a significant decrease compared to its revenue for the first quarter of 2021, which totaled €110.7 million.
Gustaf Hagman, President and CEO of LeoVegas addressed the effects of the 'German State Treaty on Gaming', which requires a limit of 1 euro per round of betting on online slots, in the quarter.
Although the Treaty came into force on July 1st, Germany is currently in a transition period in which operators can provide poker games and slot machines as long as they comply with all terms of the Treaty by October 15th.
"The changes introduced in Germany during the end of the previous year, together with the ongoing regulatory process, have had a strong negative impact on NGR over the past two quarters," said Gustaf.
NGR in Germany decreased by 81% during the second quarter of 2021, and the German market now comprises just 4% of the operator's total revenue, compared to 18% in 2020. This suggests a drop in revenue of around 19.9 million euros to around 3.9 million euros.
A total of 41% of LeoVegas net gaming revenue (NGR) was generated in the Nordic region, while 39% came from the rest of Europe. A total of 20% was made up of the rest of the world.
Costs during this quarter were higher than in the second quarter of 2020. Cost of sales and gaming fees totaled 32.4 million euros, bringing gross profit to 64.3 million euros.
Sweden performed successfully this quarter with record revenue; Sweden's gaming market is currently under several restrictions due to the new coronavirus pandemic (Covid-19), including a deposit limit of SEK5,000 on spending. The restrictions will be in effect until November 14, 2021, a date that has been controversially extended.
The main costs and figures reported in the LeoVegas report
In the report, LeoVegas clarified all the costs and numbers that influenced the final result of the second quarter.
Marketing expenses were also higher year-on-year, totaling 37.5 million euros, an increase of 14.8%. Hagman attributed this to a series of expansions into new markets. "Marketing costs to revenue were above the historical average, associated, among other things, with the relaunch of Expekt and investments in several key markets where we see high customer growth."
Employee costs reached 13.5 million euros, while other operating expenses totaled 7.4 million euros. Capitalized development expenses and other expenses reached 4.0 million euros, leaving earnings before interest, taxes, depreciation and amortization (EBITDA) at 9.8 million euros, a decrease of 13.2 million euros compared to the second quarter of 2021.
Depreciation and amortization expenses brought earnings before interest and taxes (EBIT) to 2.7 million euros, a decrease of 82.9% compared to the same period last year.
Financial costs took €877,000 out of EBIT, while after-tax earnings shares generated €196,000. Income tax of 1.0 million euros left net income for the period at 1.0 million euros, a substantial reduction of 13.8 million euros compared to the second quarter of 2020.
"Our operating profit decreased compared to the same period a year ago, as we achieved steady gains compared to the previous quarter," added Hagman.
Hagman also commented on the effects of the acquisition of Expekt from LeoVegas in March, which was consolidated during the second quarter period. "It was a successful start, and in a short time we almost doubled Expekt's revenue and market share in Sweden since the acquisition was completed."