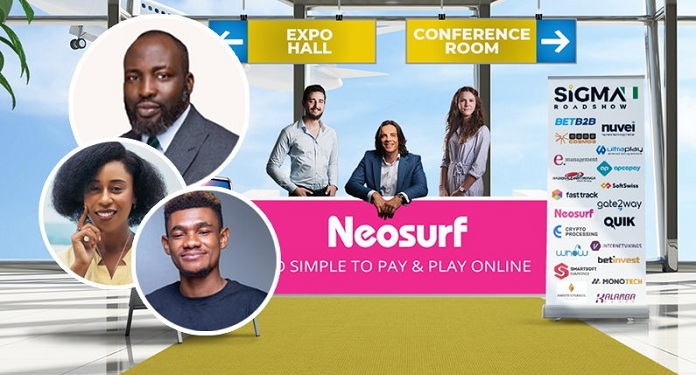 Nigeria's gaming industry is expanding and gaining momentum. This growth can be attributed to the large young population and the increase in access and improvement of internet-enabled devices.
All of this was discussed during the SiGMA Roadshow, assessing the Nigerian gaming market. With the participation of experts, the SiGMA event received 1,500 registrations and around 1,300 views of the conference.
Opening lecture at SiGMA event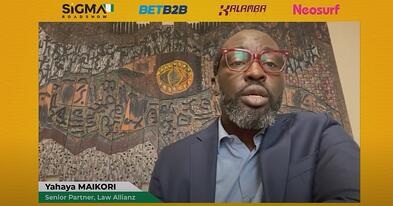 In his opening speech, Yahaya Maikori, Senior Partner at Law Allianz, highlighted the growth of this ever-changing market. In the last two years, the limited knowledge and small size of the industry disappeared.
Maikori stated that SiGMA "will continue to play a key role in creating a market that will ensure the industry's growth."
Looking to the future: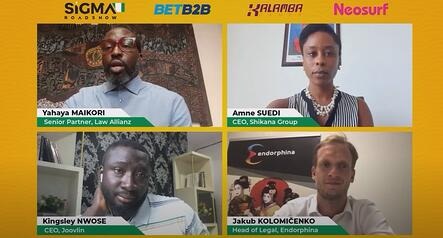 The game landscape in Nigeria has changed significantly over the years. In this featured panel, Yahaya Maikori, Senior Partner at Law Allianz, joined Amne Syedu, CEO of Shikana Group; Jakub Kolomičenko, Head Legal of Endorphina and Kingsley Nwose, CEO of Joovlin, to discuss the rise of Nigeria's gaming industry.
Regulatory aspects were one of the main points of discussion and Kolomicenko stressed the fact that regulation will come sooner or later. He went on to say that "maybe the lack of regulation is the reason why operators are not really in the African market."
Amne Suedi also highlighted that the changes in this market are quite clear, saying "We have seen a lot of changes. Many companies and associations are getting involved with the government. Overall, it is unstable. But we are moving towards stability. I think the market is will continue to grow more and more".
Nigeria: a 'heaven' for sports betting?
Nigerians are extremely passionate about sports and the demand for online sports betting is quite high. Placing bets online, if you live in Nigeria, is legal as the states across the country have several betting shops where players can bet.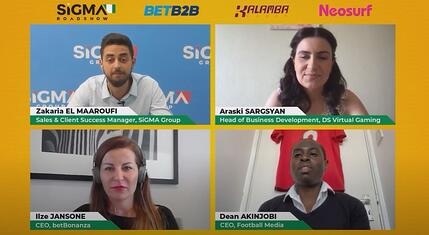 This panel discussed the issue of Nigeria being a haven for sports betting. With Zakaria El Maaroufi leading this discussion, Araksi Sargsyan, Head of Business Development at DS Virtual Gaming, Dean Akinjobi, CEO of Football Media, and Ilze Jansone, CEO of betBonanza, assessed sports betting as a whole in the region.
Akinjobi emphasized that this is the main type of entertainment with several brands looking to Africa to expand their visibility in the market. Jansone said that "in Nigeria, sports betting is still the dominant form of betting and gambling, especially online".
TVBet in Africa: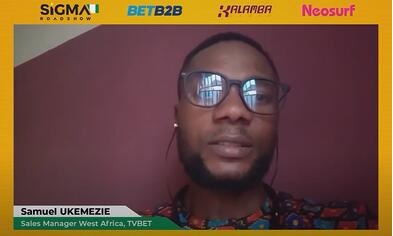 Ogechi Samuel, Africa Regional Sales Manager for TVBET, claimed that TVbet's main task is to provide partners with truly engaging content for a worldwide audience. As a B2B provider, the company offers a wide variety of live game streaming.
Live streaming is at the heart of the brand's content solutions. Along with technological superiority and fascinating game mechanics, TVBET's reinventions of world-renowned lotteries and card games have become an integral part of any casino's and sportsbook offering.
The Rise of Africa: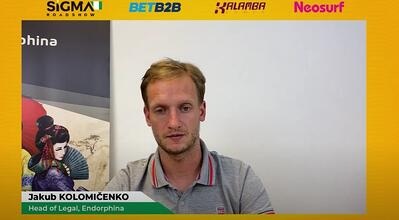 Africa is on the rise and not just from a game perspective. Land gaming is still common as a significant number of gamers are unfamiliar with smartphone technologies. As far as the online market is concerned, Africa is about to regularize it.
Understanding the industry is critical to successful regulation of online gaming, but having clear, complete and understandable regulation is key to developing the gaming markets. "It's all about the long-term relationship between regulators and operators."
The evolution of gaming technology:
Gaming has come a long way and technology has proven to be the key to the emergence of gaming in Nigeria, with gaming experiencing several advances in recent years. This panel featured Chukwudifu Ugochukwu, Founder and CEO of Oddstackr, Emeka Ezeyi, Senior Enterprise AE Online Gaming at Jumio, and Dare Lawanson CEO of ReFPredictor Interactive.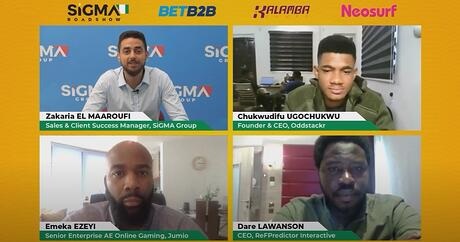 Panelists pointed out that Nigeria is one of the most interesting frontiers for the emerging use of technology, with Ezeyi revealing that while there is much to be done in the near future, according to the survey, "43% of Nigeria's population actively uses technology. Internet".
Lawanson said the government is playing an important role in this by "including more rural areas. The transition from credit and debit to mobile payment is very fast in Nigeria," he said.
Chukwudifu Ugochukuw also suggested that "the country opens up more to foreign operators because I think competition helps a lot to lower prices."
What's next for lotteries and retail casinos?
Lotteries were legalized in Nigeria in 2005, when the Lottery Law was officially established. The topic titled 'What's Next for Lotteries and Retail Casinos?' was presented by experts Godwin Solomon of Pragmatic Play, Ken Morris of E-play Africa and Monica Rangel of 888 Holdings.
The conversation covered: the importance of platforms having the right resources, especially those that are useful in Nigeria, such as SMS, USSD; alternative types of games in the online world, such as lottery and sports; responsible gaming and regulatory aspects.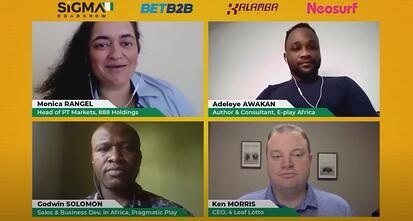 When it comes to regulation, Awakan said Nigeria needs to "block illegal, tax-free websites and build a regulated environment."
Following this SiGMA event on Nigeria, the Roadshow schedule will continue with editions in Romania in September, New Jersey in October, Taiwan in November, before ending the year with the Netherlands in December. The full calendar of events can be accessed here.