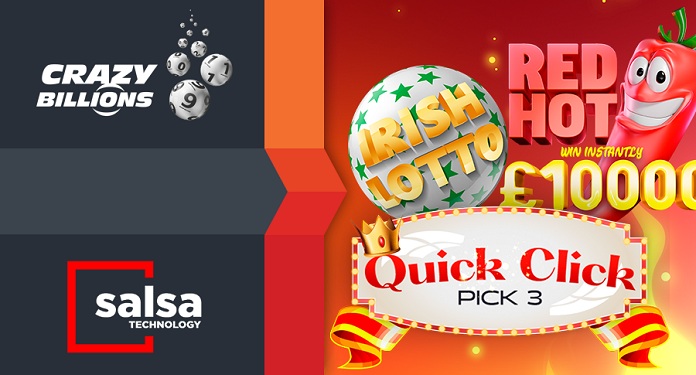 Salsa Technology is further expanding the content offering on its gaming platform by partnering with Crazy Billions. Supplier of some of the main products in Lotteries, Scratch Cards, Slots, Table Games and Instant Prizes, Crazy Billions will help diversify Salsa's iGaming portfolio.
Crazy Billions has expertise in fully online titles with the knowledge gained over a long history with instant prize products and lotteries. With this strategic commercial arrangement, Salsa's offer will receive high quality content that ranges from engaging slot machines to excellent instant games for players looking for a more "to the point" experience.
With more than 40 content providers, Salsa's game aggregator provides opportunities for operators, from a simple integration, to have access to a wide portfolio with highly localized titles that guarantee success in the national territory and in markets all over the country. Latin America.
Salsa Technology COO Alberto Alfieri said: "Having Crazy Billions on our platform will increase our offering and guarantee our partners access to an even wider selection of games. Lottery and instant prize games have a positive impact on acquisition and retention rates thanks to the speed factor and also the regularity of the draws ".
Ashley Sandyford-Sykes, director of Crazy Billions, stressed: "We are excited to start integrating our portfolio of more than 50 titles that will increase Salsa's offer. Crazy Billions adds value to its partners through a library of games that streamline customer journeys and meet the demand of an industry that continues at an accelerated pace ".
About Crazy Billions
The brand was created in 2019 with the intention of offering service to the lottery segment. Its products are made from a detailed study of the player and are fully capable of maximizing benefits for customers.
About Salsa Technology
Salsa is an iGaming omnichannel platform provider that works with both physical and online operators. Its leading platform for game aggregation is already in Latin America and is expected to reach new points on the planet soon. The beginning of the company was in the creation of Video Bingo games, a hybrid of Slot and bingo games.
The company is one of the leading technology developers in the LatAm market and is rapidly expanding its business to other markets. The technology, the platform and the entire offer of titles are laboratory certified for Colombia, Mexico and Asia, and soon for Europe.