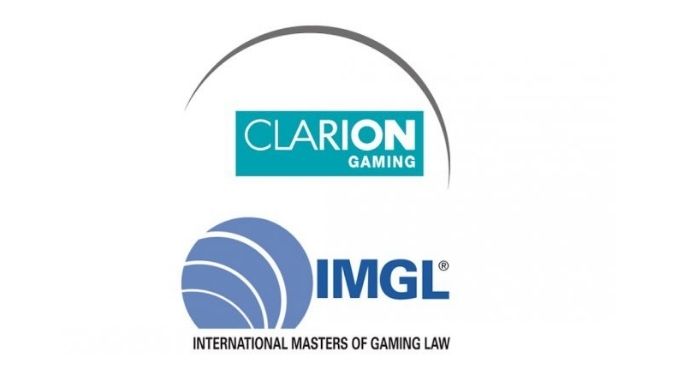 Clarion Gaming and International Masters of Gaming Law (IMGL), a nonprofit corporation that provides a forum for the exchange of knowledge about gaming legislation, announced a global media partnership.
Under the agreement, IMGL members will provide insights and opinions through Clarion's publishing platforms, including iGB, iGB North America and the ICE365 to be launched soon. In turn, Clarion will help to distribute and promote IMGL publications.
The partnership will have contributions from more than 350 international IMGL gaming lawyers, providing regular content for iGB and ICE365 and further improving the relationship between IMGL and Clarion Gaming, the iGB organizer.
The cooperation is in line with IMGL's mission to be the leading gaming law education network worldwide and will add an unparalleled level of legal expertise to Clarion Gaming and the formidable iGB coverage for the gambling and gaming industry.
IMGL became Clarion Gaming's 'Global Legal Partner' in 2019
This agreement is based on a memorandum of understanding signed between the two organizations in 2019, which positioned IMGL as Clarion Gaming's Global Legal Partner, advising on legal and regulatory content at all company events, including ICE London and iGB Live !
Stuart Hunter, Clarion Gaming representative, said: "I am delighted to expand our partnership with IMGL to include providing insights and analytics for our brands, including iGB. The reach and experience of IMGL's global network will further support our growing legal and regulatory coverage of the gaming industry across multiple channels and platforms. "
Marc Ellinger, president of IMGL, said: "IMGL brings together members in a truly global network of lawyers specializing in games. Our partnership with the iGB makes this knowledge available to its readers for the first time ".
He continued: "This exchange of knowledge will help stakeholders in the gaming industry to enrich their experience in the sector, particularly in relation to legal, regulatory and compliance issues for the benefit of their business in the coming years. We are thrilled that, through this agreement, IMGL members will join the growing list of iGB and ICE365 partners ".
About Clarion and iGB
Clarion Gaming offers exceptional results and experiences through events and live content in all active gaming markets. Its brand portfolio includes ICE, iGB and iGB Affiliate.
The iGB has been a benchmark for the online industry for more than 17 years, gaining a reputation for the news and editorials on which players base their decisions. IGB editors have decades of experience and are part of an immense network of specialized collaborators covering all aspects of the industry.