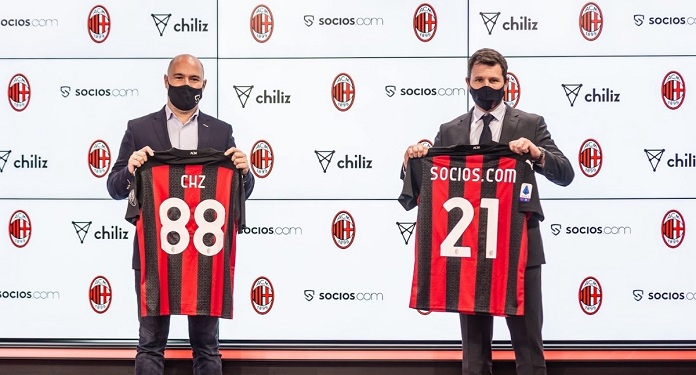 Italian football club AC Milan, in partnership with blockchain company Chiliz, has announced plans to launch an ACM Fan Token feature on the Socios.com rewards and engagement platform in the coming weeks.
Milan is among the most successful clubs of all time, with 18 Italian league titles and a large fan base, estimated at 450 million worldwide, covering a significant number of followers across Asia.
ACM Fan Token owners will have access to a number of exclusive benefits, including the right to vote on club decisions each season, VIP rewards, promotions offered by sponsors, gaming experiences and 'superfan' recognition.
The club joins 19 sports organizations that have partnered with the site to launch Fan Tokens, such as Barcelona, ​​Juventus, Paris Saint-Germain, AS Roma, Atlético de Madrid, Galatasaray and Trabzonspor. The main eSports teams, Team Heretics, NAVI, OG and Alliance are also present on the platform.
In addition, the UFC has signed a global fan engagement agreement and the MMA organization, the Professional Fighters League, will launch a Fan Token in the coming months. Other clubs with global recognition are preparing similar projects for the coming months.
Examples of fan engagement on the Socios platform
There are several good examples of engagement through Socios. The list involves Apollon FC fans, who chose the starting lineup for a friendly match and the club's uniform for home and away matches for the 2021/22 season.
Juventus fans defined the new song to celebrate the club's goal, decided on a limited edition of the redesign of the iconic 'J' logo and also the team's first coach for this season's games.
Roma fans asked questions directly to coach Paolo Fonseca at a live press conference and the PSG fans set a message for the captain's armband, in addition to voting for their end-of-season awards through the app.
In total, Fan Tokens generated more than $ 30 million for clubs and partners in 12 months. In late December and early January, several Fan Tokens were listed on major global exchanges, driving significant activity, especially for PSG and Juventus.
Milan celebrates progress in interaction with its fans
Casper Stylsvig, AC Milan representative said: "We are happy to partner with Socios and welcome them into our family as a global partner. This partnership allows us to give our 450 million fans around the world another exciting way to interact with AC Milan, which is important in the current circumstances with the pandemic ".
The director of the Italian football team also stressed: "as an innovative club, one of our priority areas is modernization and this partnership helps us to take another important step in that direction".
Alexandre Dreyfus, CEO and founder of Chiliz e Socios, said: "I am very happy to welcome AC Milan and its 450 million fans from all over the world to Socios".
He added: "The partnership with AC Milan is a big step in the beginning of this year in which we will work more than ever in our mission to establish Fan Tokens as the ultimate fan engagement tool and as a new revenue generator for sport industry ".