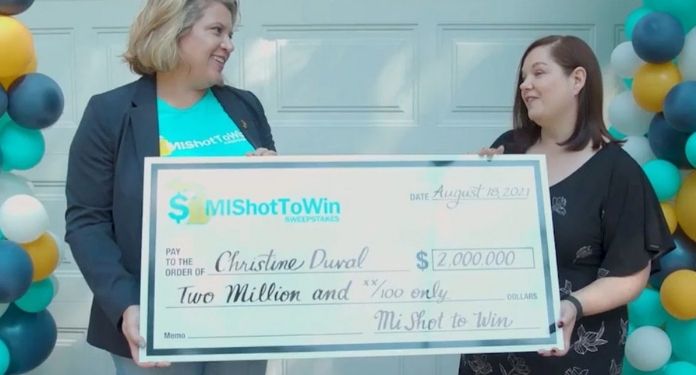 The Michigan coronavirus vaccination lottery draw awards a woman from the city of Bloomfield Township with a value of US$ 2 million – approximately R$10,762,177.4.
The youngest millionaire told NYPost that as soon as the pandemic began to spread across the country, she had to quit her full-time job as a project manager for a language training company to help her 10-year-old daughter with distance learning soon after his school closed.
With the difficulties encountered, Christine Duval said that the money arrived at an ideal time and that she is already planning everything she intends to do with the prize.
Christine reported that she will save the amount to, in the future, invest in university education for her children aged 10, 15 and 18; in addition, the woman intends to donate a portion to an institution that provides services for treatments related to mental health, and will also renovate the house where she lives with her children.
She highlighted her next steps in an interview: "Winning $2 million will help us fulfill all our dreams. We are very lucky and want to give back to those in need. The pandemic was difficult for everyone and we believe the need to provide services that promote care positive mental health is more important than ever."
Christine also commented that she and her husband took the first shots against covid-19 in early April and the second shot weeks later. Their 18- and 15-year-olds are also vaccinated.
The Covid-19 vaccination incentive lottery
The '1 Milion Shot to Win Sweepstakes' lottery program – One million doses to win the race, in free translation – is a project designed to increase the vaccination rate in July, which was a period that coincided with a 2 percentage points in infections.
The lottery draw included a $2 million prize and an earlier $1 million prize – somewhere around R$5 381 088.7, which was open to residents who received at least the first dose between December 1st. and July 30th.
Gretchen Whitmer, Michigan Governor, said: "Our lottery was just a strategy we used to promote vaccination. The work ahead is even more difficult. But we'll get there."
With the start of this initiative, the weekly number of people who received their first dose in Michigan has dramatically increased for four consecutive weeks.
About 65% of Michigan residents age 16 and older have received at least one dose, according to the Centers for Disease Control and Prevention.