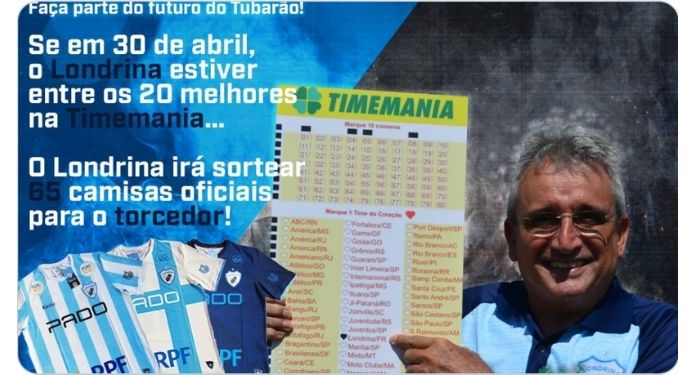 During the month of his birthday, Londrina is promoting an action to increase its revenue with Timemania. The team seeks to encourage fans to place bets on the lottery and appoint Shark as their favorite club.
Timemania was launched by the Federal Government in 2008 with the aim of helping football teams to pay their debts to the Federal Government. Of the total amount obtained in each draw, the 80 clubs are left with 22% to pay debts such as INSS, FGTS and Receita Federal. Another 2% is passed on to the teams according to the amount of bets in the heart club.
Londrina ended 2020 in 29th position, with a total amount of 929,322 bets. The 20th place was Treze (PB), which added 1,242,114 bets. Nowadays, the LEC accounts for approximately 60 thousand reais coming from Timemamia monthly. However, the groups that are in the top 20 manage to earn up to 200 thousand reais per month.
"We have had this partnership for 10 years with Timemania and much of the restructuring of Londrina took place with resources from Timemania. As we have paid off almost all of our debts, of this total we still allocated R $ 12,500 to Profut (Brazilian Football Management Modernization and Fiscal Responsibility Program) and the rest goes 100% into the club's coffers ", explained the president Felipe Prochet.
https://twitter.com/LondrinaEC/status/1374405721475796997
Londrina intends to enter the Top 20 of Timemania
In the accumulated result for this year, Tubarão dropped one place and is in the 30th position, with 138,371 bets. The current 20th place in the ranking is Athletico. Prochet pointed out that the idea is to promote campaigns in the coming months to strengthen ties between the club, fans and the lottery to end 2021 in the top 20. Today, a bet costs R $ 3.
"To reach Thirteen's total bets last year, it is enough for each Londoner to place two bets during the year. So, it is a totally achievable goal. The increase in revenue at Timemania can be a great vector for changing the key in Londrina for future club projects ", declared the president.
In reference to the 65th anniversary on April 5, the club created the challenge "LEC 65 years". The goal is ambitious and wants to insert the team in the group of 20 with more bets in Timemania by the end of the month. If this is achieved, the board will draw 65 official shirts for bettors.
To participate in the initiative, just place a bet and point Londrina as the club of the heart. Each ticket can be exchanged for a coupon directly at the Vitorino Gonçalves Dias stadium (VGD) to compete for the draw of the shirts.
https://twitter.com/LondrinaEC/status/1379781481988521986