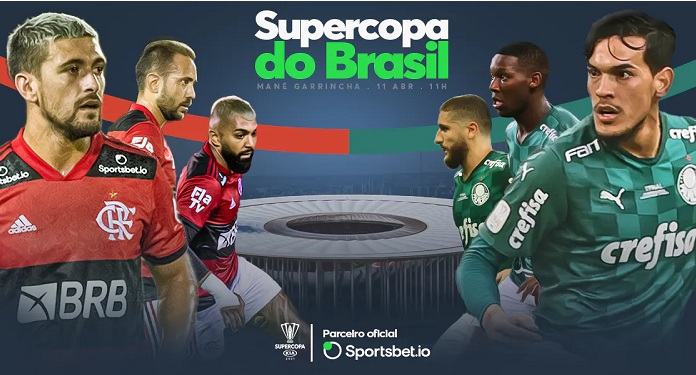 Joining last year's Brasileirão champion and the winner of the 2020 Brazil Cup? Will happen! This is the Supercopa of Brazil, which this year reaches its second edition in the century, being disputed by Flamengo and Palmeiras. The clubs enter the field not only for the trophy, but also for the prize of R $ 5 million to the winning team.
It is enough to write on the agenda: Sunday, 11, at the Mané Garrincha Stadium, in Brasilia, at 11 am. And Sportsbet.io has already secured its space as a partner in the competition. The main cryptocurrency betting site in the world is not only a sponsor of the Brazil Cup, but also of Flamengo, present in the dispute.
Therefore, the "io", as it is known by its players, will be an advertiser with specific properties for this confrontation, such as rugs showing the brand next to the beams and a rotating drafting on the led banners, which, in the sum throughout the decision, must reach 15 minutes of viewing for a match that will be broadcast on open and closed TV.
Justin Le Brocque, Head of Marketing at Sportsbet.io, stressed that the agreement provides several situations that the brand supports. "This is an opportunity where we have unique elements, first because we have Flamengo in the competition, which is already a team that we have been supporting since 2019 in a partnership full of successes".
Le Brocque added: "It still has to be a decision. Playing a trophy is always something that everyone really wants and we will be happy to play together in that game. Being present, activating and creating attractions for customers is what moves us ".

Sportsbet.io created new markets for the Supercopa do Brasil
Le Brocque's explanation shows what Sportsbet.io has prepared for its players on the platform. In addition to traditional bets in the match, three new markets were developed for the bettor to make his bid during the Super Cup:
Who will be the champion of the Brazilian Supercopa? Palmeiras / Flamengo;
Will the decision be on penalties? Yes/No;
Will the referee visit the VAR's booth during the game to review a move? Yes/No
Bets can be placed until the moment of the game and are already available here. This is another activation of Sportsbet.io aiming to innovate in the national market.
Brand has other expressive partnerships
In addition to this promotion aimed at Brazilian fans, the company already has other actions, such as the partnership with Flamengo, Imperial CS: GO, and also presents former player Denílson as its official ambassador in Brazil.
Worldwide, the brand is on the shirt of English clubs Watford and Southampton, in addition to having a betting agreement with Arsenal.