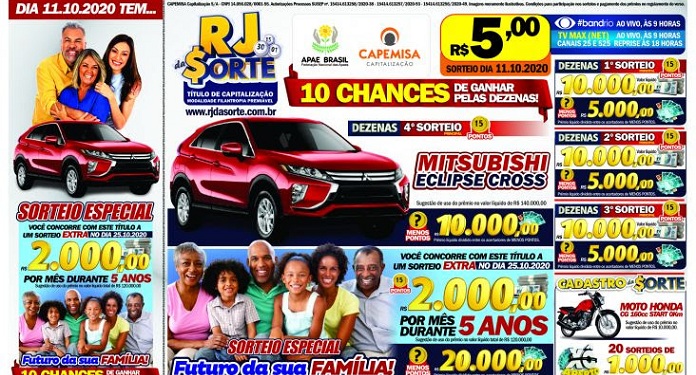 On this October 12th holiday in honor of Nossa Senhora Aparecida, the Patroness of Brazil, RJ da Sorte promotes the joy of residents in the city of Rio de Janeiro.
On Sunday the 11th, Capemisa's savings bond customer will be able to win a Mitsubishi Eclipse Cross car, a Honda motorcycle and many other cash prizes.
In addition, the customer will be participating in the monthly prize for October, in the extra contest "Futuro da Sua Família" that will offer around R $ 2 thousand per month for a period of five years to a lucky person. This type of award is unprecedented.
The prize, which will be able to ensure a more comfortable financial situation for any resident of the city for the next 60 months, will happen in the draw for the end of the month, scheduled for August 25th. However, the RJ da Sorte titles corresponding to that month's contest will be valid for the special action. And all for R $ 5.
Agreement with PicPay
In addition to the possibility of purchasing the title through the official website on boleto bancário or credit card, the user will also be able to pay with credits on PicPay from now on.
About RJ da Sorte
Basically, RJ da Sorte is a capitalization bond that falls under the category of rewardable philanthropy, prepared by the company Capemisa Capitalização.
All operations are authorized by the Superintendency of Private Insurance (SUSEP), an agency linked to the Ministry of Economy and responsible for the process of verifying capitalization bonds throughout the national territory.
In addition, the program is in accordance with the terms requested by the sector's regulations, in particular SUSEP Circulars 569, 576 and 582/2018 and forwards the redemptions to APAE – Brazil, in order to finance projects of the 62 APAEs (Associations of Parents and Friends of the Exceptional) of Rio de Janeiro.