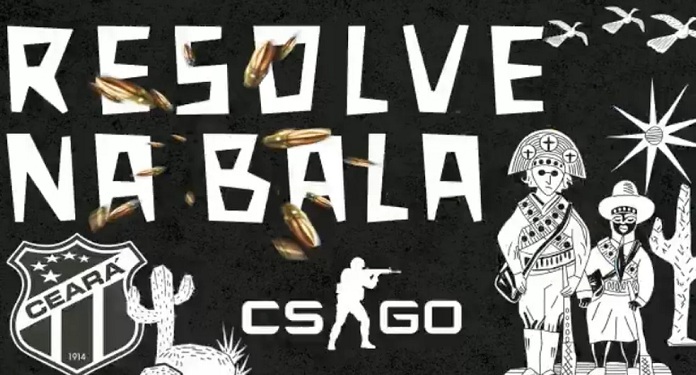 Traditional in Brazilian football, Ceará is increasing its participation in the competitive esports segment. The team presented its line-up to enter the Counter Strike: Global Offensive (CS: GO) modality formed by João "naitte" Maia, John "LineKo", Marcelo "McL" Frazão, Mateus "supLexz1n" Miranda e Lucas " sk1pfps "Santiago.
In addition to the competitors, the cast also includes coach Lucas "luuqfps" and manager Danyel Carvalho. The news was announced on the club's social networks. Today, Vozão's eSports division has about 70 representatives in the categories of CoD Mobile, Clash Royale, FIFA, Fortnite, League of Legends (LoL) and PES.
The team's first challenge will be the Northeast Cup. "It is a huge pleasure and responsibility to represent a Brazilian giant. We have a line with experienced players and champions. They are very used to playing together. They were separated, but now they have come together to play for Ceará. We hope it will be the kickoff of a long and victorious partnership. The training is already being very intense. We are going with everything ", said Carvalho.
The club's eSports manager, Tiago Morais, also celebrated his entry into the new sport. "CS: GO was not just a desire of the fans. Our management team is a big fan of the sport. But just like we did with League of Legends, Fifa, Clash Royale, everything has its preparation time".
Morais continued: "There is no point in entering a sport without a well-formatted project or a team that does not represent Ceará at that level. And we are very happy to have made this partnership with Danyel, who is a reference in Brazil in Counter Strike and with these players who will give a lot of joy to the fans. Ceará was born very strong in CS ".
https://twitter.com/CearaSC/status/1378096377729839107
Increase of bets on electronic sports
The entry of a traditional club like Ceará in CS: GO was a way found to expand the interaction with an audience that is consuming more and more specific content of this sector, proving the expressive growth of the last years.
In this way, electronic sports enthusiasts seek more information and data both to closely monitor their favorite competitors and to make the best decisions to place their bets on official competitions.