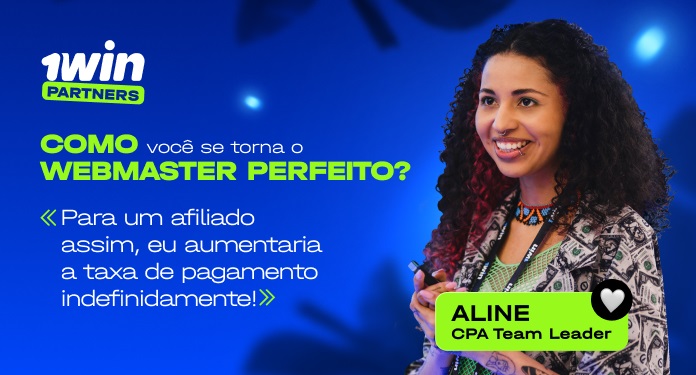 We continue to pitch to the 1win Partners team, and with each article, we get a little closer to you. This incredible, talented and exceptional woman in her field definitely deserves your attention.
Today, CPA Team Leader Aline is part of the "Meet 1win Partners" column. She is modern, stylish and responsible for networking and working with our partners as well as the entire local CPA team.
Aline told us about the most profitable GEO, described the portrait of an ideal webmaster (which sounds like you) and even shared the secret of which traffic source is most profitable!
About the company, the job, the department
Hello, tell us about your role and work tasks.
I am Aline, the first 100% Brazilian Affiliate Manager in the 1win CPA department, I work exclusively with the Brazilian market, offering personalized and constant service to our partners. My job consists of buying quality traffic from webmasters, negotiating CPA offers, analyzing metrics, optimizing campaigns, offering 24/7 support to partners and approving payments from partnerships.
By the way, how did you get into affiliate marketing? What attracts you most in our sector?
I've always found the marketing area super interesting, so when I discovered 1win Partners and the opportunity to learn more about this area arose, I didn't think twice about taking the plunge! I really enjoy being in contact with partners and working with performance analysis, metrics and data in general.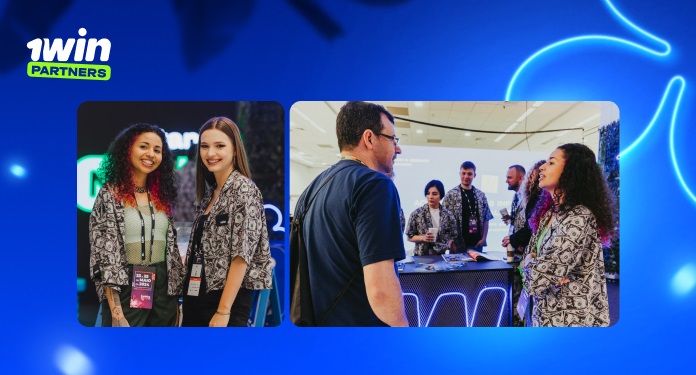 What are your main projects now?
At the moment, I am committed to supporting the growth of our CPA sector in Brazil, so that our affiliate program is at the top of the market and so that more and more webmasters profit from us! I feel very lucky to be seeing the development of the Affiliate Marketing area in Brazil up close, I am also very happy to be able to contribute to this expansion and as I always say to my affiliates: the sky is the limit for us.
Will the number of Brazilian affiliate managers be expanded in the near future? Yes! We are currently training new Brazilian managers to expand our team in the country, and with this, be closer to our partners. We believe it is extremely important to be physically in Brazil, to create a community of affiliates, with events and training available for our partners. Get ready, lots of good things are coming!
I've always found the marketing area super interesting, so when I discovered 1win Partners and the opportunity to learn more about this area arose, I didn't think twice about taking the plunge! I really enjoy being in contact with partners and working with performance analysis, metrics and data in general.
About Brazil as a GEO
How do you evaluate Brazil as a GEO for paid traffic? What is our potential as a GEO?
The Affiliate Marketing market has been growing rapidly in Brazil, we have more and more partners investing in paid traffic and achieving incredible results! Our GEO has a super important differentiator, as we have a very large audience that really enjoys playing casino, placing bets and having fun on our gaming platform. In other words, we have an audience with enormous potential for being interested in playing games during their free time, as a leisure activity and not as an immediate source of income.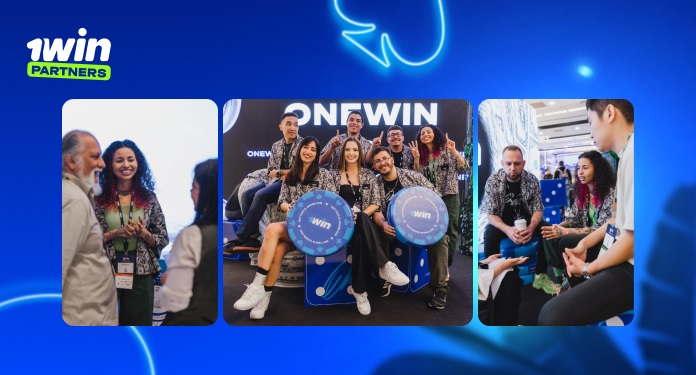 What qualities should a top-notch affiliate manager have in your opinion? Which of them are most present in local affiliate managers?
To be a good affiliate manager it is important to enjoy dealing with people, networking, and being sociable in general. We, as good professionals, seek to build partnerships based on friendship and trust, as we greatly value good relationships with our affiliates, as they are the central pillar of our work.
Furthermore, a good manager must also be good with numbers, with data analysis and metrics, to be able to offer high-level support to their partners, always focusing on increasingly improving results. The highlight of our managers is precisely the combination of all the qualities mentioned above, as training new managers is one of our highest priorities, so that we can guarantee service with a high level of trust and professionalism to our affiliates.
About interacting with webmasters and trends
Is it true that Brazilians are great iGaming webmasters?
Without a doubt! Brazilian webmasters are super friendly, easy to communicate with, always attentive and interested in improving their campaigns and thus making more and more money.
Why should webmasters in Brazil choose to work with 1win?
Our product is the best on the market in the casino and betting area, we have our own games that are super fun and easy to play, in addition, our gaming platform is intuitive and has a very attractive design for players. In other words, promoting 1win and attracting new players is not a difficult task, quite the opposite, as the quality of our product is above average compared to other bookmakers.
Another advantage is our "1win Partners" affiliate platform, which offers all the necessary tools for publishing and monitoring statistics in real time. And finally, we also make weekly payments, which can be a differentiator for webmasters who invest in paid traffic.
Who is the perfect webmaster for you? Name the main characteristics?
Loyalty, honesty and the desire to grow, these are essential characteristics for trust and focus on a successful partnership. A good manager alone cannot achieve good results, the partnership needs a focused webmaster with plans for the future, so that they can grow and reach the top together.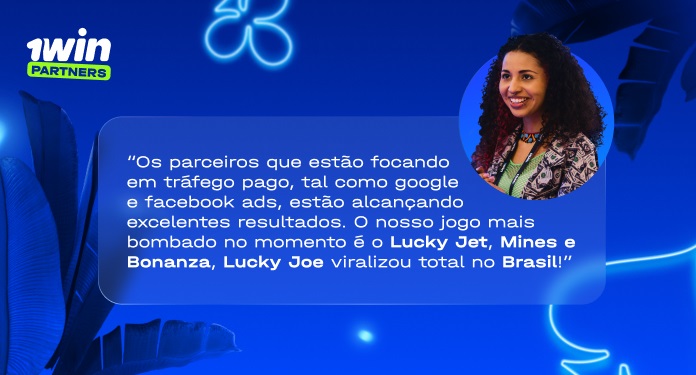 What is trending in the Brazilian market at the moment? What is converting? What most attracts users?
Partners that are focusing on paid traffic, such as Google and Facebook ads, are achieving excellent results. Our most popular game at the moment is Fortune Tiger, the little tiger has gone completely viral in Brazil!
What is the traffic source that is unfairly rarely looked at?
I see fewer and fewer partners working with YouTube and YouTube ads, which are sources that usually bring us quality leads, as their target audience is an audience that plays for fun and entertainment.
How often do you participate in events? Where can webmasters find you (conferences, meetups and other things)?
I participate in all relevant conferences in the area of affiliate marketing in Brazil, this year I participated in two, Afiliados Brasil and the Brazilian iGaming Summit (Sigma Brasil). They were incredible experiences!
Which conference or event was the most memorable for you?
Sigma Brasil was the one that impacted me the most, as I had the opportunity to meet many affiliate networks and potential partners, which has yielded positive results for me so far. Networking during the conference was the highlight for me.
What would you wish for your current and future 1win partners?
I wish everyone much success, I am very happy to see the Brazilian market growing more and more and webmasters becoming professionals in this field. I see with great pride and optimism the growth of my current partners, who I saw come to us with a lot of distrust due to negative experiences with other houses, but who today are happy to always be able to count on us at 1win. In addition to partners, I also consider my affiliates as friends and there is nothing more incredible than seeing our friends grow and evolve.
Did you enjoy the interview? Want to know even more precious information that Aline has to share? Go to our Instagram, in her stories she answers the questions (if you didn't have time, you can see all the answers in the highlights)! And to ensure you don't miss the next content from 1win Partners, come join our Telegram group.