EstrelaBet is the new official Brazilian supporter of the 2023 FIFA Women's World Cup. The announcement was made in the opening week of the competition to be played in Australia and New Zealand.
According to an official note, the bookmaker is "the only company in the segment" to support the Women's World Cup in Brazil.
However, this is not the first deal aimed at women's football closed by EstrelaBet.
The company has already entered into partnerships with Gurias Coloradas, from Internacional, Meninas do Vozão, from Ceará, Remo, Spartanas, from América, CBF Futsal, in addition to being a sponsor of the 2022 Gaúcho Women's Championship.
"It is a great satisfaction for us to enter into this partnership for the greatest FIFA Women's World Cup of all time", said Renan Cavalcanti, Chief Marketing Officer of EstrelaBet.
"This initiative shows the importance of the women's sports segment and what it is achieving, because we are supporting the sport responsibly and we are very proud", he added.
EstrelaBet launched a special advertisement to announce partnership with FIFA
EstrelaBet will sponsor the World Cup broadcast on CazéTV. Streamer and journalist Casimiro's channel will broadcast all games.
In addition, brand ambassador Fernanda Gentil will be one of the highlights of the Women's World Cup coverage on the Youtube channel.
Journalist and presenter, Fernanda was also the star of a campaign launched by EstrelaBet to celebrate the partnership with FIFA.
Check out the video below:
Sports betting on the Women's World Cup
The 2023 Women's World Cup starts this Thursday, 20, extending until August 20. While the Brazilian team debuts only next Monday, the 24th.
The team commanded by Pia Sundhage will face Panama, in the kickoff of the campaign in search of the unprecedented world title.
Later, the Brazilians will measure forces against France and Jamaica in Group F.

EstrelaBet has already made available a series of sports betting markets related to the Women's Cup.
Thus, the list includes the champion selection, selections classified in each group, match-by-match bets and much more.
The Brazilian team, therefore, appears as the favorite to keep the three points in the debut and in the Top 10 of the candidates for the title.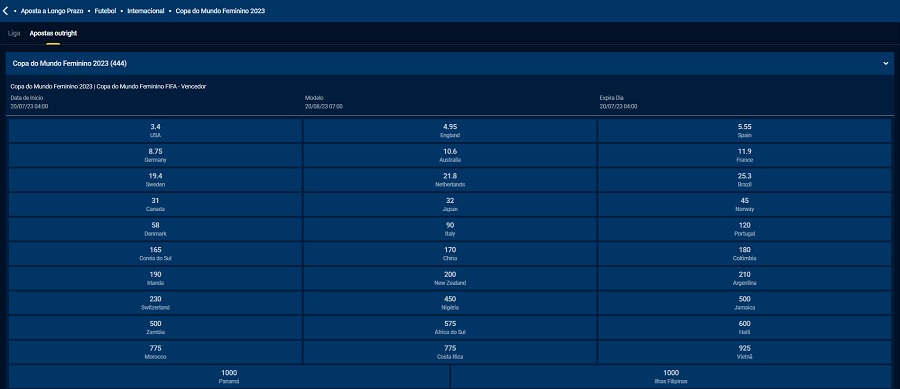 For every real bet on the title of the Brazilian team, EstrelaBet is paying 25.3.