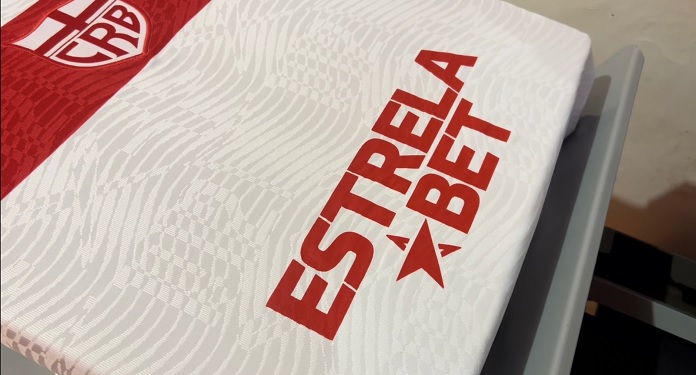 The bookmaker EstrelaBet and the CRB signed the renewal of the sponsorship contract. The new agreement will last for the next two years and the brand will be in one more place on the club's shirt: before it was only on the sleeves and, in this new agreement, it will also be on the hem of the shirts.
The renewal of the partnership between the two parties foresees actions on social networks and actions involving tickets as one of the sponsorship activations. In addition, the brand will be present at the club's Training Center.
Vice-president of marketing for the club, André Carneiro valued the trust that exists between the two sides to complete the renewal. According to the executive, this is one of the biggest sponsorships for a club in Alagoas.
"We are very happy with the renewal of the sponsorship contract with EstrelaBet, this time for two years. This shows the mutual trust and commitment of both CRB and EstrelaBet in this partnership", he said.
"Speaking of the bet, it should be noted that it was not just a matter of renewal, but an expansion of the partnership. EstrelaBet has literally doubled the bet on the CRB. In addition to the sleeves, the brand will also be printed on the front of our mantle. It is one of the biggest sponsorships of a club from Alagoas", he added.
Rafael Zanette, head of sponsorships at EstrelaBet, also commented on the renewal with the CRB. Galo will have the Alagoano Championship, Northeast Cup, Copa do Brasil and Série B ahead of them. "It is very gratifying to be able to announce a contract renewal like this. It shows that the partnership worked and that we have a long road of victories ahead of us. I'm sure of it."
The club used social networks to announce the renewal with EstrelaBet, highlighting the existing partnership and the good results of the team last year, such as winning the Campeonato Alagoano.
About EstrelaBet
Recently, the betting company announced sponsorship agreements with Ponte Preta and América-MG. EstrelaBet also has partnerships with Internacional (male and female), Villa Nova-MG, Botafogo-SP and Criciúma, in addition to MMA fighter Fabrício Werdum, Magnus Futsal, CBF Futsal and Beach Soccer, and with the volleyball teams Sada/Cruzeiro for men and Minas Tênis for women.