This Thursday, the 24th, Brazil debuted with a 2-0 victory over Serbia in the World Cup in Qatar. The number 9, Richarlison scored the two goals of the Brazilian team in the second half. The goal that defined the score was quite celebrated due to the plasticity of the move from Vinicius Jr.'s precise pass. until the spin and volleyed finish by the Brazilian striker.
With the result, the Brazilians are in first place in Group G with the same score (3 points) as Switzerland, who overcame Cameroon by 1-0, but with a better goal difference. Brazil will play again next Monday, the 28th, at 1 pm, against Switzerland, in the second round of the World Cup Group Stage.
However, the coaching staff could not just celebrate after the debut. That's because the number 10, Neymar was substituted due to a sprained ankle. The player has already started undergoing the necessary treatment and must undergo tests this Friday, the 25th.
sports betting
The Brazilian victory stirred up bookmakers and further increased the Canarinho team's favoritism to win the 2022 World Cup. Now, the payment for each real invested is 3.5.
In the online betting sector, the dynamic is as follows: the more favorite a country is – according to the companies' mechanisms -, the smaller the prize for the bettor. In this way, the chance that the event takes place (Odds) changes according to the dispute of the games. The lower the odd, the greater the chance of the result happening.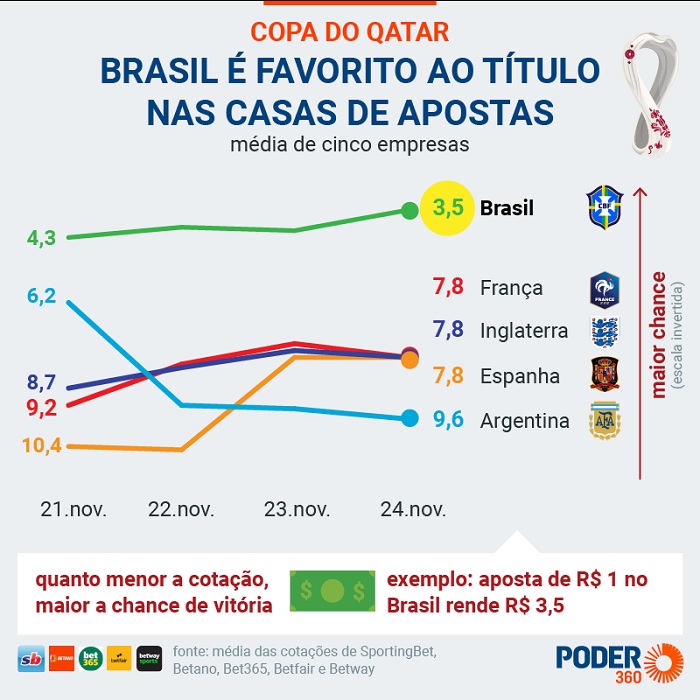 Remembering that the Brazilian men's team has five World Cup titles (1958, 1962, 1970, 1994 and 2002), being the only five-time champion. Currently, Brazil also leads the ranking of FIFA selections.