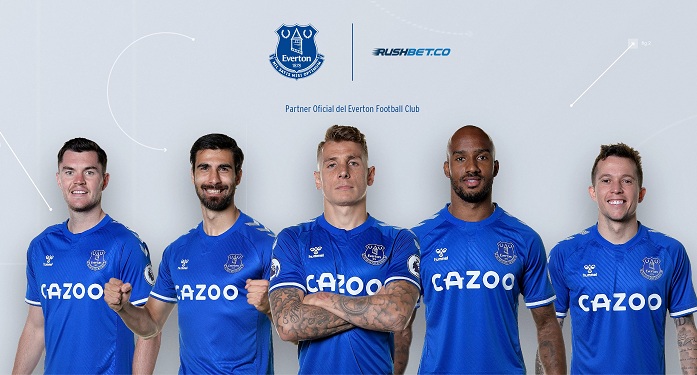 England's Everton closed its first partnership in Colombia with Rush Street Interactive and its gaming brand RushBet. The long-term agreement with the online betting company will enable the club's athletes to be featured in a new Rushbet campaign, to be shown on the country's main channels in 2021.
In addition, the brand will appear on the official website of the football club on match days, respecting age and territory restrictions. And the company will also have access to the images of the club for their activations on the dates of games.
"We are delighted to announce this partnership with Everton Football Club, supporting its huge growth in Colombia," explained Omar Calvo, general manager of Rushbet.co.
He added: "We are proud that our first alliance with the Premier League is through the Everton Football Club and that we have become the club's first Colombian partner, which seeks to expand in the South American market."
The manager also stressed that the English Premier League and Everton are very famous brands in the country and that "having two of our most beloved Colombians in their main team makes them stronger".
English club values ​​Rushbet support for international growth
Founded in 2018, Rushbet is headquartered in Bogotá, Colombia, where Everton lit the Torre Colpatria, the country's tallest building, in blue with the number 19 to celebrate the arrival of midfielder James Rodríguez to the club.
Now, the agreement allows the team to continue investing in this growth in South America, especially in Colombia, supported by the charisma of Rodriguez and defender Yerry Mina, players who are essential for the team today.
Alan McTavish, Everton's commercial director, noted: "Our new deal with Rush Street Interactive Colombia and its brand, which includes an advertising campaign on national television, shows the important advances we have made in South America and is part of our strategy to international expansion ".