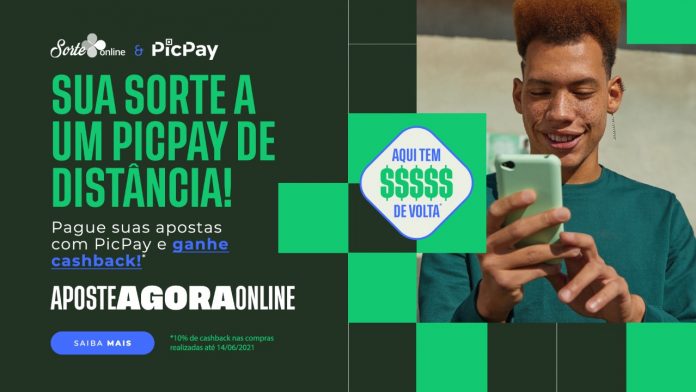 Sorte Online, a group specializing in lottery services, closed an unprecedented partnership with PicPay, the largest digital wallet in Latin America.
Whenever you place a bet on Sorte Online, the user will be able to select PicPay at the time of finalizing the payment. By doing this, he will receive 10% back – with a cashback amount limited to R $ 8.00 – as a balance in the application. Consumers can earn money back up to twice a month.
The cashback campaign will run for 30 days, where it started on May 14 and continues until June 14. All purchases made in the period will be eligible, whether they are jackets or individual bets.
The option to use PicPay as a payment method, however, will be maintained even after the action is closed. In this case, just open the application and complete the transaction using the code.
How to pay with PicPay at Sorte Online
Both by cell phone and computer, when selecting PicPay as a payment method, the user will need to accept the terms and conditions to continue the procedure.
If using a smartphone, the consumer will be taken directly to the application. If you do not have PicPay installed, it will be directed to Google Play or the App Store to download.
On the other hand, if you purchase via the desktop, the user will see a QR Code on the screen – which will also be sent by email and notification. In both cases, consumers are notified by email as soon as payment is confirmed.
About Sorte Online
Established in the market since 2003, Sorte Online is a group that offers different lottery services, the main one being lottery bets over the internet.
The company offers collective games – the popular draws – to bettors, who can compete for prizes from all competitions held in the national territory. The games are created by specialists and have strategies that enhance the chances of victory, such as unfolding and closing.
In addition, the site also allows users to set up individual bets without the need to travel to a lottery unit. Sorte Online has already distributed around R $ 145 million in prizes, with more than R $ 45 million in the last 12 months alone