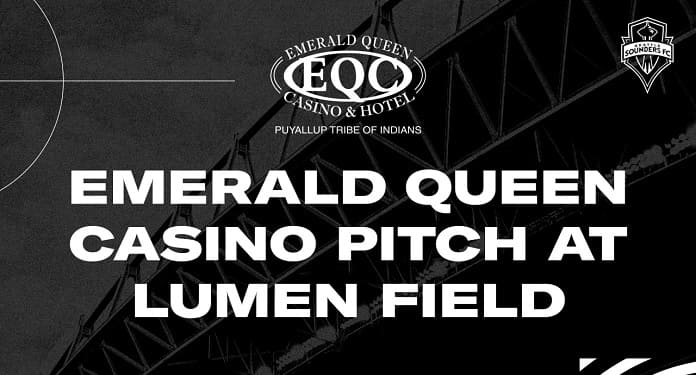 Seattle Sounders FC have entered into a naming rights partnership for their long-running field with the Puyallup Tribe of Indians' Emerald Queen Casino (EQC). The club, which plays in Major League Soccer (MLS), will officially present the Emerald Queen Casino Pitch at Lumen Field on Saturday, 10th, in the match against Austin FC.
Hundreds of Puyallup Tribe members will participate in the game as a way to kick off the partnership, with Puyallup Tribe Cultural Director Connie McCloud performing a blessing on the field as part of the opening ceremonies.
"Sounders FC is honored to present the Emerald Queen Casino Pitch at Lumen Field to our fans and the wider community," said Seattle Sounders FC President of Commercial Operations Peter Tomozawa.
"We are honored to be working alongside our new partner who will be in our kit and sponsor the 'replay' since last year. And, we couldn't be more excited to deepen this relationship even further as we move forward together in this new, expanded cooperation."
"As an organization, Sounders FC hold our home in high regard with our winning record. The naming rights deal brings a partner that complements the pride and success we want the gaming audience at Lumen Field to feel, and we are happy to continue working with them as they support football in our region."
New sponsor will have brand exposed at Seattle Sounders FC stadium
Under the agreement, the new sponsor's branding will be all over Lumen Field at Sounders FC's home games, including the center circle, player entry tunnel and upper level chairs.
The Puyallup Tribe Council commented, "We are proud to partner with Sounders FC and honored to see our name and emblem on Lumen Field. Our impact in this region is positive and broad, from jobs to entertainment, and we want to make sure we team up with other community leaders who are also generous and welcoming to all people."
"It has been an enormous joy to partner with Sounders FC and they are committed to learning from and honoring our deep history and culture here as the Puyallup people. We congratulate them on all their achievements."